The number of younger pilots who died suddenly soared in 2021, a new study has revealed.
The deaths were revealed in a detailed analysis of the Airline Pilots Association (ALPA) obituaries.
According to the study, the information shows a significant increase in the sudden deaths of younger pilots in 2021.
The ALPA is an organization that represents more than 67,000 pilots at 39 US and Canadian airlines.
The organization is the world's largest airline pilot union.
The ALPA publishes the monthly Airline Pilot Magazine.
In every edition of its magazine, the ALPA includes a list of pilot members who have died in a section titled "In Memoriam."
The list is compiled from information provided by family members, as and when the Association receives information.
It is not a complete or timely list of ALPA members who have passed away in any given month but it gives a good indication of how and when pilots died.
What is significant in the data is that it exposes a staggering 40 percent rise in the incidence of younger pilots dying suddenly before the normal retirement age of 65.
This increase happened in the year 2021 – the same year Covid shots were mandated for pilots.
So-called "fact-checkers" have been attempting to dispute the numbers of deaths shown in the data by arguing that it includes delayed obituaries.
The false claims of exponential rises in pilot deaths come from the way the deaths are reported in the ALPA magazine.
They are not cumulative and they are significantly delayed, partly due to the magazine being a monthly publication.
These are pilot deaths that the families of the deceased have decided to make public in honor of their deceased.
For example, in the April 2023 issue, there was one death reported that occurred in May of 2019, and one reported that occurred in September 2021.
Eight were reported for 2022 and dozens through March of 2023.
"Fact-checkers" use such examples to argue that reports on pilot deaths are "false."
However, it is possible to filter out the data to only show deaths that occurred during a specific time period.
— Air Line Pilots Association (@ALPAPilots) December 9, 2021
Admittedly, the deaths reported in the ALPA magazine are a small subset of what is happening industry-wide.
The magazine will only report the deaths of pilots that belonged to the ALPA union.
There are some large airlines whose pilots do not belong to ALPA, including American and Southwest.
However, Dr. Kevin Stillwagon, a former chiropractor and retired airline captain, conducted a study based on the available data and reported on the alarming results.
The extrapolated data shows an increase in younger pilot deaths starting in 2021: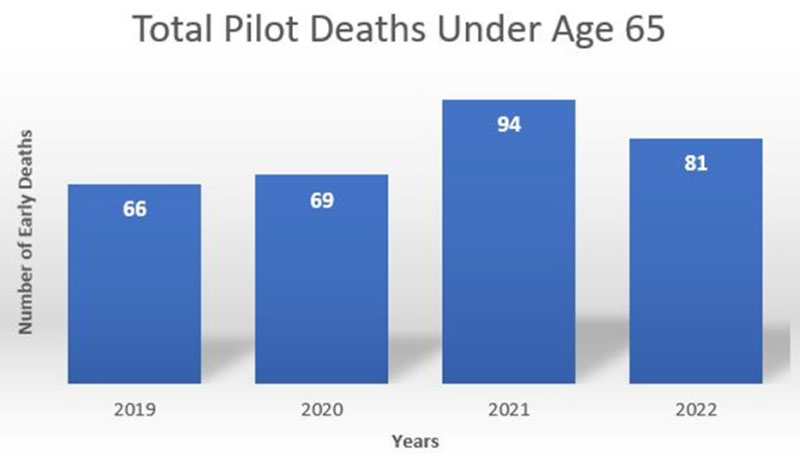 The data also shows the average age of pilot deaths is decreasing over time.
Worryingly, the plummeting life expectancy for pilots appears to continue into this year: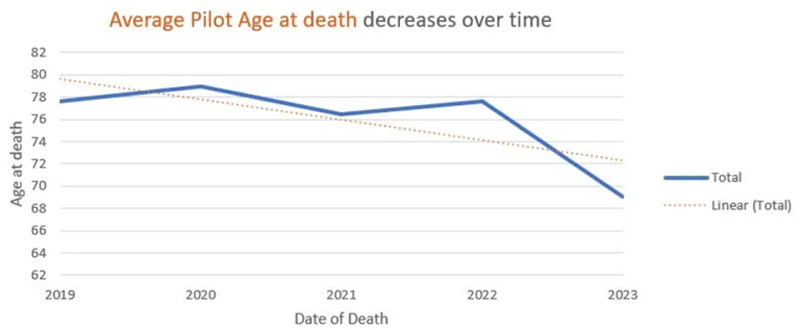 According to Stillwagon, it has become even more apparent that the chance of an unexpected death increases significantly with booster injections.
It took about two years for scientists to discover these unforeseen physiological mechanisms that explain what they expected to occur before mRNA covid-19 "vaccines" were introduced to billions of humans and thousands of pilots.
Two years should have been the minimum amount of time dedicated to the safety and efficacy trials that only lasted a few months.
At the time these injections were mandated and forced into airline pilots, they were, and still are, experimental.
The Federal Aviation Administration (FAA) guidelines prohibit the use of experimental drugs in pilots.
Even after a drug is Food and Drug Administration (FDA) approved, the guidelines do not allow pilots to use the drug until a full year has passed.
This allows time to identify any adverse reactions in the general population that might affect the safety of flight.
As Slay News has been reporting, reports of pilots suddenly dying or suffering dangerous medical emergencies have been soaring.
During one terrifying incident, an airline pilot collapsed at his plane's controls and died suddenly shortly after taking off from Chicago's O'Hare International Airport in November.
Captain Patrick Ford of the American Eagle Embraer 175 passed out at the controls and died mid-flight.
The plane had taken off from the runway and was en route to Columbus, Ohio when Captain Ford collapsed.
The co-pilot was forced to take over the controls and return the plane to land in Chicago.
During a separate incident in March, a United Airlines passenger jet was forced to make an emergency landing in Houston, Texas after the pilot became suddenly "incapacitated" while suffering from "chest pains."
According to the UAL file, "Left seat Capt had chest pains. Could not get him out of the seat. Right seater [co-pilot] landed."
This news comes after reports that a British Airways pilot suddenly dropped dead shortly before he was due to fly a passenger jet carrying 200 passengers.
As Slay News reported, the pilot, who hasn't been identified by the airline, died at a hotel in Egypt after collapsing unexpectedly.
He was on his way to Cairo Airport to fly a British Airways (BA) plane back to Heathrow in the UK.
The flight crew gave first aid to their colleague in the foyer of the hotel in Cairo after he had a heart attack.
They performed CPR as they desperately tried to save his life but were unsuccessful.
The plane, which was ready to take off for Heathrow Airport, was delayed by the tragedy.
However, the passengers on board the jet were blissfully unaware that their pilot had just dropped dead.
In one incident reported by Slay News in February, an American Airlines pilot suffered a massive heart attack just six minutes after landing a passenger plane carrying almost 200 passengers.
Captain Bob Snow survived the heart attack but is now speaking out to raise the alarm about pilot safety.
Snow lambasted the Biden administration and Federal Aviation Administration (FAA) for mandating Covid shots for pilots, which he blames for his own heart failure.
READ MORE: Wealthy Elites Now 'Require' Unvaxxed Pilots to Fly Private Jets