Hunter Biden's former business partner Devon Archer met with then-Secretary of State John Kerry just weeks before Ukraine's top prosecutor was fired, newly surfaced emails have revealed.
At the time, Archer was also a board member at corrupt Ukrainian energy company Burisma Holdings along with Hunter Biden.
Ukrainian Prosecutor General Viktor Shokin was investigating Burisma when he was abruptly fired in 2016.
Shokin, who served as the equivalent of the U.S. attorney general, was fired on March 29, 2016.
His firing came in under four weeks after Archer met with Kerry at the State Department in Washington, D.C.
The meeting was confirmed in a State Department email that was obtained via a Freedom of Information Act (FOIA) request.
"Devon Archer coming to see S today at 3:00 pm – need someone to meet/greet him at C Street," reads the redacted email on March 2, 2016, which was previously released via the FOIA.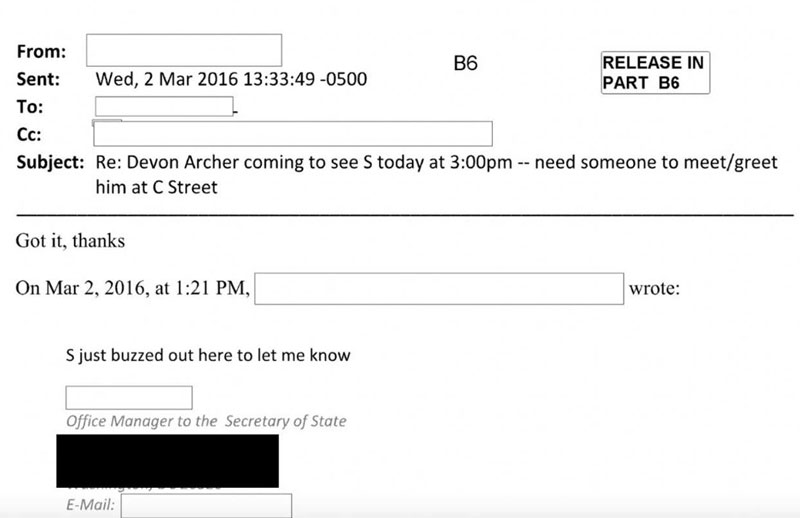 Fox News confirmed that "S" refers to Kerry.
The same codename is used in multiple other email communications.
However, it is unclear what Archer and Kerry discussed at the meeting or whether Burisma came up in conversation.
At the time of the meeting, Archer and Hunter Biden had been sitting on the board of Burisma for about two years.
Then-Vice President Joe Biden had also recently wrapped up a trip to Ukraine where he threatened to withhold $1 billion in U.S. aid if Ukrainian officials didn't fire Shokin, claiming he was too lax on prosecuting corruption.
When the email was first released in 2019, Sens. Chuck Grassley (R-IA) and Ron Johnson (R-WI) expressed concerns about the meeting.
The two top Republicans sent a letter to then-Secretary of State Pompeo requesting all records from the meeting in addition to other meetings.
The request included information about Hunter Biden's 2015 meeting with then-Deputy Secretary of State Antony Blinken.
As Slay News reported last week, Shokin spoke out against the Bidens during a Saturday interview with Fox News's Brian Kilmeade.
Shokin said he was fired at Biden's insistence because of his investigation into Burisma.
He also revealed that his investigations found that Joe and Hunter Biden were taking "bribes."
The White House has disputed the claims, however.
"I have said repeatedly in my previous interviews that [then-Ukrainian President Petro] Poroshenko fired me at the insistence of the then-Vice President Biden because I was investigating Burisma," Shokin said in the interview.
"[Poroshenko] understood and so did Vice President Biden that had I continued to oversee the Burisma investigation, we would have found the facts about the corrupt activities that they were engaging in.
"That included both Hunter Biden and Devon Archer and others."
However, in a statement to Fox News, the White House insists that Shokin was fired because he had been too soft on corruption.
The White House also alleges that Shokin's office had not been investigating Burisma or Hunter at the time of his ouster in March 2016.
To support these claims, the White House cites three corporate media reports published within weeks of each other in 2019 by the Washington Post, Associated Press, and New York Times.
Those reports defended Biden by claiming Shokin's office wasn't investigating Burisma when he was fired.
However, Archer said during a closed-door testimony before the House Oversight Committee in July that, amid pressure from Shokin's office and other entities investigating Burisma, company leaders turned to Hunter for help from then-VP Biden.
He went on to say that Hunter and Burisma executives "called D.C." in December 2015.
This call was just days before the vice president's trip to Ukraine.
According to Archer, they asked the Obama administration to help get Shokin fired to protect Burisma.
Burisma executive Vadym Pozharsky emailed Hunter Biden, Archer, and fellow Hunter associate Eric Schwerin in early November 2015 about a "revised proposal, contract, and initial invoice for Burisma Holdings" from lobbying firm Blue Star Strategies.
Hunter reportedly connected Burisma with Blue Star Strategies to help the energy firm fight corruption charges levied against Mykola Zlochevsky, the company's owner.
Pozharski said in his email that the "ultimate purpose" of the agreement with Blue Star Strategies was to shut down "any cases/pursuits against Nikolay in Ukraine," referring to Zlochevsky, who also went by Nikolay.
"The scope of work should also include organization of a visit of a number of widely recognized and influential current and/or former US policy-makers to Ukraine in November aiming to conduct meetings with and bring positive signal/message and support on Nikolay's issue to the Ukrainian top officials above with the ultimate purpose to close down for any cases/pursuits against Nikolay in Ukraine," Pozharsky continued.
This wasn't the first time that a Burisma board member met with a top State Department official in the middle of a growing pressure campaign to help protect Zlochevsky and Burisma from investigations.
In May 2015, Hunter and then-Deputy Secretary of State Antony Blinken were exchanging emails about setting up a meeting at the State Department.
After the first scheduled meeting, which appeared to have been canceled due to the death of Hunter's brother, Beau, the pair rescheduled and met in July 2015.
Hunter forwarded Archer a couple of the email exchanges between Hunter and Blinken about planning for the first meeting, prompting Archer to respond, "Roger," in one reply.
"12:00-1:30pm- Lunch with Tony Blinken (State Department)," Hunter's schedule reads.
"Enter at main entrance ('Diplomatic Entrance'), 22nd & C St, NW. Proceed to receptionist area where Kenny Matthews will be waiting to escort you to Tony's office."
Archer, a longtime Biden family friend and business partner, worked as an adviser to Kerry during his failed 2004 presidential campaign.
Kerry now serves as Biden's special presidential envoy for climate (SPEC).
In 2013, Archer exchanged emails with Kerry's then-chief of staff at the State Department, David Wade, organizing a call between Kerry and then-Foreign Minister of Kazakhstan Yerlan Idrisov.
"Devon: understand you spoke to the Secretary re having him call Foreign Minister Idrisov today, can you let me know topics Idrisov wants to talk about/any requests he'll have of the boss, so we can get paper prepared for a call," Wade wrote.
Archer told Wade that Idrisov wanted to speak with Kerry about keeping open a direct line of communication between the two of them as well as brief him on a "subject as it relates to Afghanistan."
Wade went on to advise Hunter on rapid response related to Burisma after leaving the State Department in June 2015.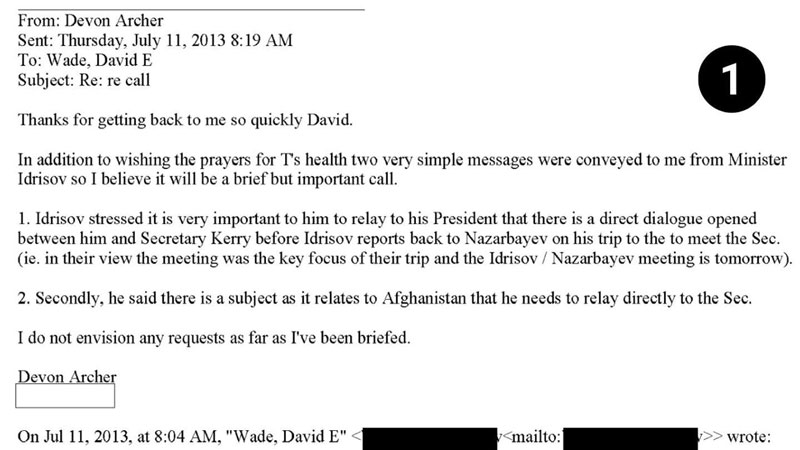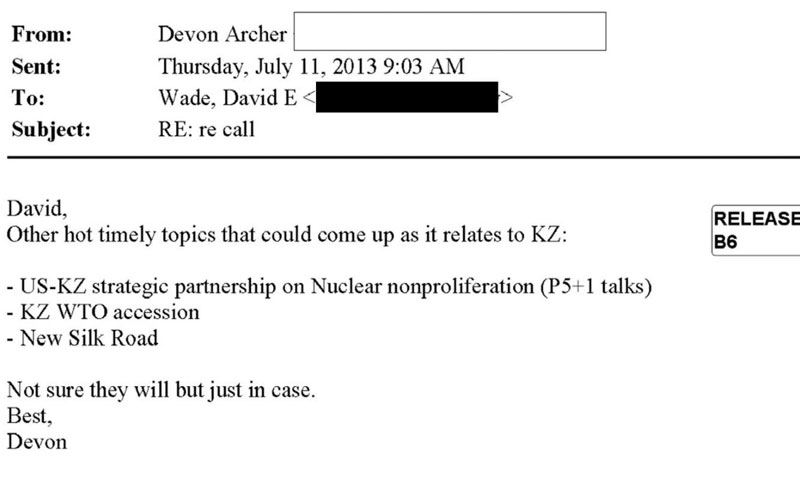 Archer co-founded Rosemont Seneca Partners with Hunter Biden and Kerry's stepson, Christopher Heinz, his Yale roommate, in 2009.
In a 2012 email chain, when then-Sen. Kerry was serving as chair of the Senate Foreign Relations Committee, Archer listed him as one of his top references for Rosemont Seneca Technology Partners (RSTP) after one of the firm's partners told Archer and Hunter they needed their "bazooka references."
An individual with knowledge of the reference list told Fox News Digital they were not aware of Kerry ever vouching for RSTP or its clients.
The individual, who requested anonymity, went on to say that Hunter and Archer's role was to help navigate Washington but also said they would sever ties with Hunter after he was kicked out of the Navy Reserve for cocaine in late 2014 and that Archer's position was cut the following year because he wasn't doing any work for RSTP.
READ MORE: John Kerry: Farmers Must Stop Growing Food to Meet 'Net Zero' Goals for 'Emissions'