Fadumo Sardeye has been working for various Tennessee Walmart locations over the past 18 years. Suddenly she was fired. Sure she won't touch or sell any pork or alcohol, and needs all the holy days off. That's not a good enough reason to fire her, the Somali Muslim complains. Her lawyer agreed and slapped the retail megalith with a massive lawsuit. Not so fast, the bigwigs in Benton object. That wasn't why they fired her. She's just lazy.
Not fair, Muslim cries
Somali native Fadumo Sardeye claims Walmart fired her simply for being Muslim. Nope, sorry, that's not true, the retailer replies. Yes, it is true that she was always "asking for vacations during Islamic holidays and refusing to touch pork products" but that's not why they tossed her out the door.
Walmart spokesperson LeMia Jenkins "denies these claims, reiterating that Sardeye was fired because she failed to show up for work too many times." Lazy isn't a religion. Yet.
Sardeye's high-priced attorney, Jerry Martin, a partner in the firm Barrett Johnston Martin & Garrison, filed suit against Walmart for religious discrimination. He says "she was fired solely because of her faith and immigration status." The 54-year-old was born in Somalia before moving to the U.S. in the early 1990s. She's been working for Walmart most of the time since.
As a "devout Muslim," she "required special exemptions, including being allowed to wear a hijab, refusing to handle pork and alcohol products, and taking off work to observe major Islamic holidays." Walmart gave them to her. Everybody was happy until she started using her privileges as an excuse to shirk her duties.
For years, Walmart argues, "Sardeye was accommodated in every way she required." That wasn't good enough for her.
Despite "her employer making every effort to appease her religious requests, she claims that she was abused and ultimately terminated for simply being a Somali Muslim." Maybe she shouldn't have kept going on about Ilhan Omar in the break room.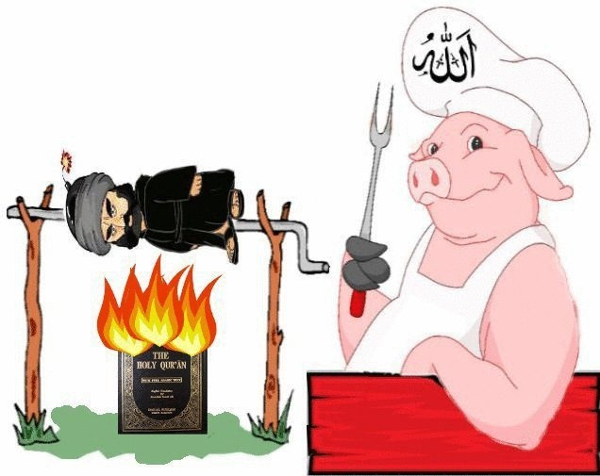 Show me where it says that
A local news outlet reports that her lawsuit alleges that it was the Knoxville store where everyone was so nasty. Her management team was vicious enough to deny "her vacation requests during the month of Ramadan."
Or so the Muslim says. She also wants a jury to believe that her boss "demanded she locate a passage in the Quran to prove that she wasn't allowed to touch pork and alcohol products." It will be interesting to see if that exchange shows up on the security videos.
The Muslim woman also accuses her coworkers of harassment, "adding that she was retaliated against after she contacted Walmart's corporate office to complain of discrimination." That was what broke her camel's back she insists.
"Afterward, she says that she faced scheduling issues that led to her termination." She was "repeatedly penalized for working shifts her supervisor gave her because they didn't match the times recorded in the store's computerized scheduling system."
Not true, LeMia Jenkins insists. "We do not tolerate discrimination or retaliation. Ms. Sardeye was terminated for repeatedly violating our attendance policy. While we haven't been served with the complaint, we intend to defend the company against this litigation."
It turns out that she just didn't like being stuck off on her own where the Muslim wouldn't offend her American colleagues. "Wal-Mart reduced Plaintiffs hours of work and assigned her to work alone, with no support, more and more frequently."