Alec Baldwin has snapped and publicly threatened a man who made a joke about the embattled Hollywood star's tragic shooting on the set of his movie Rust.
The threat emerged after Baldwin was trashing President Donald Trump on Twitter.
Baldwin was commenting on the widely-mocked testimony before the Jan. 6 Committee by Cassidy Hutchinson, an aide to Mark Meadows.
"Trump tried to choke a Secret Service agent," Baldwin falsely claimed.
"I mean…what more do you need?"
A Twitter user called Mike Williams fired back at Baldwin: "Better than shooting you[r] cinematographer."
Baldwin was outraged at the comment and threatened the man.
The actor said in his now-deleted post:
"When I am eventually not charged with any crime, I'll come find you so you can apologize.
"I'll find you Mike," Baldwin warned.
Mike fired back with:
"This is the best day ever.
"Come and get me. I'm waiting Alex"
Just posting this for the memories. pic.twitter.com/AkdW5FXhD5

— Mike Williams (@mwreyes) June 30, 2022
Better than shooting you cinematographer

— Mike Williams (@mwreyes) June 29, 2022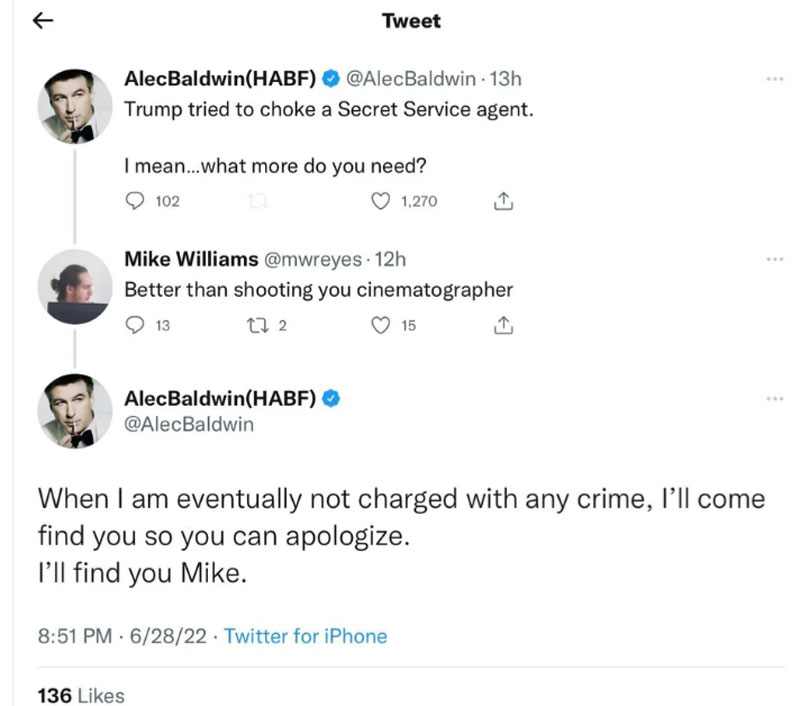 In April, the Santa Fe County Sheriff's Office said:
"Various components of the investigation remain outstanding, including FBI firearm and ballistic forensics along with DNA and latent fingerprint analysis, Office of the New Mexico Medical Examiner findings report, and the analysis of Mr. Alec Baldwin's phone data extracted by Suffolk County Sheriff's investigators.
"Once these investigative components are provided to the sheriff's office, we will be able to complete the investigation to forward it to the Santa Fe district attorney for review."