Democrat President Joe Biden accidentally flashed his handlers' cheat sheet in front of the press, causing Americans everywhere to question who is really running the country.
During a Thursday press conference on the Federal-State Offshore Wind Implementation Partnership at the White House, the cameras caught photos of the notes Biden was reading from.
The notes were exposed when Biden accidentally held the card back-to-front, revealing what was written to the reporters in the room.
While it's understandable that the president would want to carry notes with bullet points, the child-like simplicity of the instructions has left many deeply disturbed.
The cheat sheet, presumably written by Biden's mysterious unelected handlers, told the president where to sit, when to speak, and what to say.
.@POTUS: "I am disappointed in the Supreme Court gun decision. … I think it's a bad decision. I think it's not reasoned accurately." pic.twitter.com/q8eKlM7FnT

— CSPAN (@cspan) June 23, 2022
The cheat sheet said:
"YOU enter the Roosevelt Room and say HELLO to participants."
"Press enters"
"YOU give brief comments (2 minutes)"
"Press departs (t)"
"YOU ask Liz Shuler, President, AFL-CIO, a question. Note: Liz is joining virtually."
"YOU thank participants."
"YOU depart."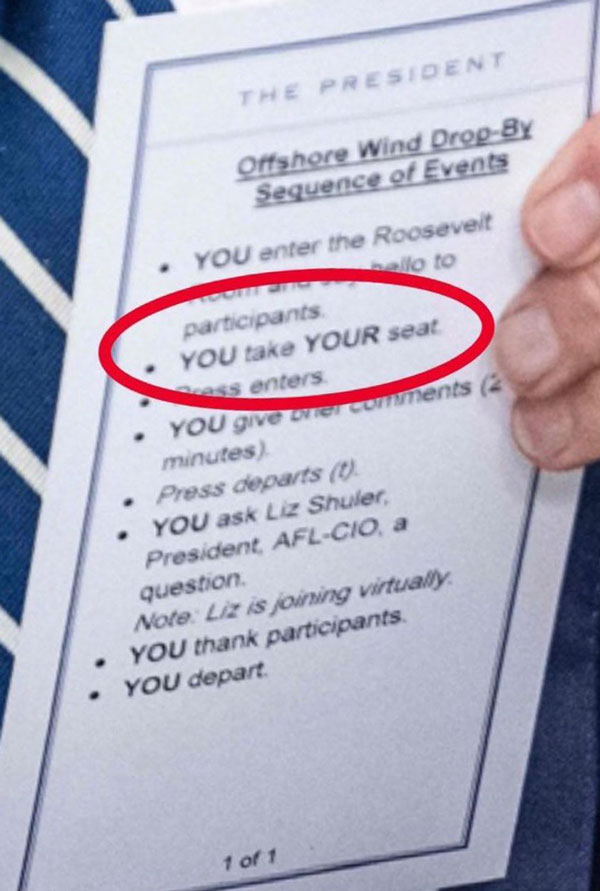 'YOU take YOUR seat.' @POTUS given cheat sheet on how to enter a room. pic.twitter.com/AVG4Fkp6SS

— Breaking911 (@Breaking911) June 23, 2022
'YOU take YOUR seat': Very specific cheat sheet reminds Biden how to act 🤦🏻 https://t.co/x6002YcPeM

— Jon Nicosia (@NewsPolitics) June 23, 2022
The photo of the note card was taken by Drew Angerer of Getty Images during a meeting Biden conducted at the White House.
This is not the first time Biden's notes have gone viral, however.
In March, he was seen holding a card reading, "Tough Putin Q&A Talking Points" during a news briefing about the Russia-Ukraine conflict.
During an event last July, the president was handed a note reading, "Sir, there is something on your chin."