Another maniac with no self-control and an over-inflated ego started blasting in an Idaho shopping mall on Monday, October 25. Two people are dead including a mall security officer. Four others were injured. The shooter has been identified as 27-year-old Jacob Bergquist, now deceased.
Officer and Army veteran
On Tuesday, police disclosed that the suspect in Monday's mall shooting spree had died in the hospital "following a shootout with police."
His victims were identified as Roberto Padilla Arguelles, age 49, of Rupert and 26-year-old Army veteran Jo Acker, the on-duty officer providing mall security.
According to local Boise, Idaho, news outlet The Statesman, the security officer "was working to save lives when she was fatally shot." It was just part of her duties.
"She would see anybody in trouble, no matter how uncomfortable or awkward it would be, she would stop whatever she was doing to make sure that the other person is safe," Ray Dawn, Acker's partner, reflects.
Along with the Acker and Arguelles, two women, ages 52 and 23 were injured in the mall shooting. Separately "a 68-year-old woman and a Boise police officer were wounded while inside their vehicles."
The mall was closed Tuesday although people who left belongings there Monday were able to retrieve the items."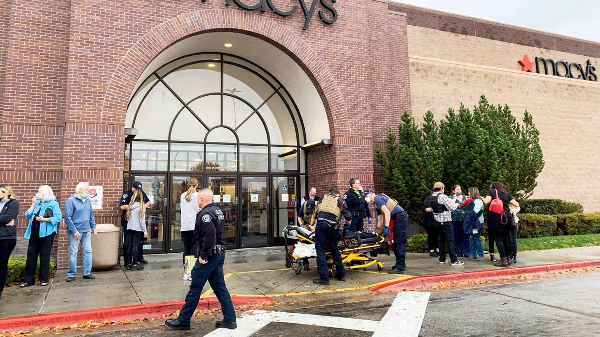 A known subject
A city spokesperson relates that the "police officer wounded in the gunfire was treated and released." According to Boise police Chief Ryan Lee, "Bergquist was a 'known subject' to local police who was the subject of previous police reports but had no arrests."
Maybe if they would have arrested him for something then, two others would be alive today. It seems the unstable attacker was well prepared for his mission. "He brought multiple weapons and ammunition to the mall."
The shooting "was reported about 1:50 p.m." with word that one person was "shot and down." Panicked shoppers "fled to the parking lot." One officer spotted "someone who matched the description of the suspect" as soon as the police rolled up on Boise Towne Square shopping mall.
"There was an exchange of gunfire that ensued shortly thereafter, resulting in the officer's injury, as well as the suspect being taken into custody."
Boise Mayor Lauren McLean praised Officer Acker for her heroic efforts. "Countless people found themselves in a situation they never would have or should have expected."
The shopkeepers and visitors were also to be commended for reacting "so quickly to take care of folks that were there. You showed in a tough and chaotic moment how much you care and what you're willing to do to support and care for strangers."