Rumble received a chilling letter from the British government, demanding that the video-streaming platform should take action against popular creator Russell Brand.
The letter, sent by the UK Parliament's Culture, Media and Sport Committee, pressured Rumble to penalize Brand by demonetizing his account.
Brand has millions of subscribers across multiple platforms, including Rumble.
On YouTube, where Brand has 6 million subscribers, the Google-owned platform removed his ability to earn revenue from his popular videos.
As Slay News reported, YouTube demonetized Brand, despite his account not violating any of the platform's policies.
YouTube cited Brand's "off-platform behavior" for its decision.
The move comes in response to allegations against Brand as part of a coordinated corporate media campaign.
Last week, UK's The Times and Channel 4's Dispatches covered serious allegations of assault against Brand which were conveniently times to be published at the same time.
Since last weekend, the media has been awash with stories about Brand and his anonymous so-called "victims."
However, Brand has not been charged with any crime, let alone convicted of one.
Nevertheless, the media pushes on under the assumption of guilt.
In response to the media campaign, several major platforms, including YouTube, Netflix, and BBC iPlayer, took swift action, either by demonetizing Brand or removing his content.
The chair of the Culture, Media and Sport Committee, Dame Caroline Dinenage, responded by saying that she is "concerned" that Brand may be able to profit from his work online.
"We would be grateful if you could confirm whether Mr. Brand is able to monetize his content, including his videos relating to the serious accusations against him," Dinenage wrote in the disturbing letter.
"If so, we would like to know whether Rumble intends to join YouTube in suspending Mr. Brand's ability to earn money on the platform."
"We would also like to know what Rumble is doing to ensure that creators are not able to use the platform to undermine the welfare of victims of inappropriate and potentially illegal behavior."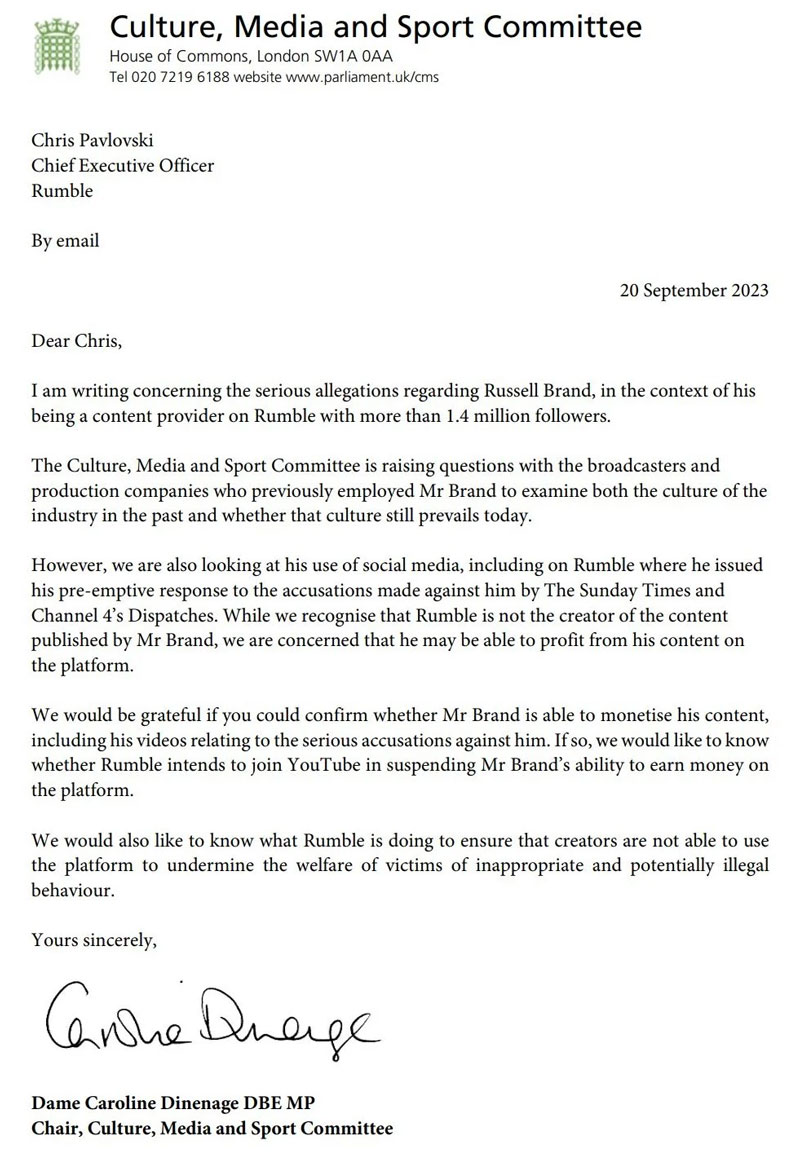 Rumble has taken a different approach to other platforms, however, and told Dinenage her "woke" allies to pound sand.
In response to the chilling letter regarding Brand's monetization on the platform, Rumble CEO Chris Pavlovski issued a statement emphasizing the company's commitment to a free internet.
Pavlovski took a clear stance against rushes to judgment and cancel culture.
He stressed that the unfounded allegations against Brand have no connection with his content on Rumble.
He pointed out the importance of a free internet, "where no one arbitrarily dictates which ideas can or cannot be heard."
In a letter shared on Twitter/X, Pavlovski responded:
Today we received an extremely disturbing letter from a committee chair in the UK Parliament.

While Rumble obviously deplores sexual assault, rape, and all serious crimes, and believes that both alleged victims and the accused are entitled to a full and serious investigation, it is vital to note that recent allegations against Russell Brand have nothing to do with content on Rumble's platform.

Just yesterday, YouTube announced that, based solely on these media accusations, it was barring Mr. Brand from monetizing his video content.

Rumble stands for very different values.

We have devoted ourselves to the vital cause of defending a free internet – meaning an internet where no one arbitrarily dictates which ideas can or cannot be heard, or which citizens may or may not be entitled to a platform.

We regard it as deeply inappropriate and dangerous that the UK Parliament would attempt to control who is allowed to speak on our platform or to earn a living from doing so.

Singling out an individual and demanding his ban is even more disturbing given the absence of any connection between the allegations and his content on Rumble.

We don't agree with the behavior of many Rumble creators, but we refuse to penalize them for actions that have nothing to do with our platform.

Although it may be politically and socially easier for Rumble to join a cancel culture mob, doing so would be a violation of our company's values and mission.

We emphatically reject the UK Parliament's demands.
Rumble's response to the UK Parliament's letter to our CEO @chrispavlovski pic.twitter.com/iSCpHIHoU4

— Rumble – 🏴‍☠️ $RUM (@rumblevideo) September 20, 2023
While the letter from Rumble did acknowledge the seriousness of crimes like sexual assault, it underscored the importance of not penalizing creators for allegations unrelated to the platform.
It also highlights Brand's right to a fair trial before being punished for allegations that he hasn't, yet, been charged with.
Pavlovski also raised concerns over the UK government's attempt to influence who is allowed to speak or earn on Rumble.
The attempt by a government body to target individuals based on allegations that haven't been criminally investigated is deeply disturbing.
The unfolding situation surrounding Brand draws attention to broader discussions on cancel culture.
It also raises concerns about the role of tech platforms and the overreach of governments in regulating online content, especially when it comes to targeting individuals who question political agendas.
🔥Russell Brand highlights prior warnings from Hillary Clinton, VP Kamala Harris, and Senator Amy Klobuchar that the U.S. election system is connected to the internet, compromised, and vulnerable to hackers.

See the detailed 70-post thread below.👇https://t.co/upFIU1g8SN pic.twitter.com/l7dlEQ28Gt

— KanekoaTheGreat (@KanekoaTheGreat) September 18, 2023
For now, Rumble remains committed to its principles.
The company is rejecting the call to join the growing number of platforms penalizing Brand based on unproven accusations.
As the story progresses, the debate over censoring regime critics will likely intensify.
READ MORE: WHO 'Pandemic Treaty' Negotiator Demands Sweeping Censorship Powers: 'Misinformation' Is a 'Serious Health Threat'