The judge overseeing Manhattan District Attorney Alvin Bragg's politically motivated case against President Donald Trump has some questionable ties to the Democrat White House.
New York Supreme Court Justice Juan Merchan is presiding over Bragg's get-Trump case.
However, Judge Merchan is far from impartial and has tangled with Trump in the past.
Merchan previously oversaw the tax fraud cases of The Trump Organization and the company's former CFO Allen Weisselberg.
Trump is not a fan of Merchan either.
Last week, Trump took to Truth Social and wrote:
"Juan Manuel Merchan was hand-picked by Bragg & the Prosecutors, & is the same person who 'railroaded' my 75-year-old former CFO, Allen Weisselberg."
Now new evidence has emerged to further suggest that Merchan, who is described as a lifelong Democrat, may be motivated by politics.
A bombshell discovery of his daughter's LinkedIn account reveals his daughter is a Democrat who works with the election campaigns of President Joe Biden and VP Kamala Harris.
According to her work history, Loren Merchan previously worked on Harris's 2020 presidential campaign.
Loren Merchan's ties to the vice president didn't end with her failed 2020 campaign, however.
The judge's daughter now runs a company that lists the Biden-Harris Campaign as a client.
The discovery was unearthed by the Gateway Pundit and pieced together from a photo posted online by the Geneseo Alumni Office.
The image features Judge Merchan with the caption "One of the panelists was Hon. Juan Merchan, Court of Claims Judge sitting as an Acting Justice of the Supreme Court — Criminal Term, New York County, and parent of Loren Merchan '11."
A quick search online led to Loren Merchan's LinkedIn account which showed she graduated from Suny Geneseo in 2011 just as the Geneseo Alumni page wrote.
Now the interesting part comes.
Loren's work history section reveals she worked as the Director of Digital Persuasion for Kamala Harris for the People.
SCREENSHOT: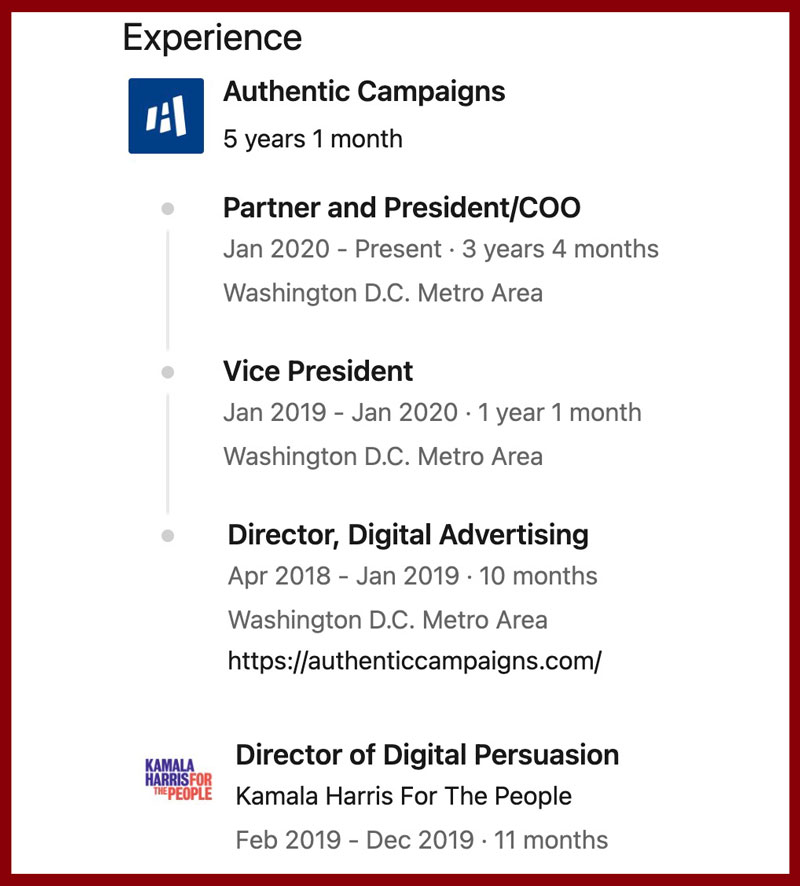 Loren Merchan stopped working for Kamala Harris for the People when the now-VP dropped out of the presidential race in December 2019.
While she was working with the Kamala Harris campaign, Loren also served as the Vice President of Authentic Campaigns.
According to its website, Authentic Campaigns is a digital agency that raises  "hundreds of millions of dollars for progressive campaigns" through digital persuasion programs.
Authentic Campaigns was also heavily involved with Harris's campaign and the company served as the vice president's main digital vendor.
Loren currently serves as the President of Authentic Campaigns.
The company appears to still be a big fan of Harris and uses her image as the background of its site.
After Harris dropped out of the race, Authentic worked with the Biden-Harris campaign.
Unsurprisingly, Authentic isn't a fan of Trump either.
The company has an article on its site that accuses Trump of "scamming people online."
According to leaks from the Manhattan DA's office to the corporate media, Trump is due to be arraigned on 34 felony counts on Tuesday.
READ MORE: Americans Now More Likely to Vote for Trump, Post-Indictment Poll Shows