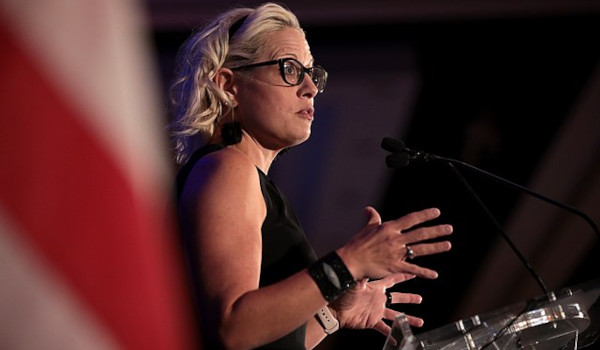 It is just a bit entertaining to watch the Democrat-Socialists attempt a political strong-arm tactic only to discover a straw arm in its place. That's precisely what's happening in Arizona as the AZ Dems, a relatively much weaker organization than the AZGOP by far attempts to wrangle their wayward Senator Kyrsten Sinema who seems determined to buck her party and actually do her job for once.
PoliticusUSA's Jason Easley and Sarah Reese Jones and the Dems Socialist 'Progressives' of Arizona certainly are very vocal in their opposition to Sinema, claiming that "Sen. Sinema has completely misplayed Build Back Better, and she looks to be on the fast track to a primary challenge." All the while propping up a feckless campaign to "draft Ruben Gallego" Arizona District 7 Congressman to primary her.
Sen. Sinema's constituents are angry at her for not holding town halls or taking meetings with them on Build Back Better. It appears that Sen. Sinema's obstructionist games are backfiring on her. pic.twitter.com/2bki7iIWkn

— Sarah Reese Jones (@PoliticusSarah) October 27, 2021
But there's one problem: Sinema doesn't need the far left of the Democrat party and she never has. What made Sinema hard to beat for the GOP in Arizona is that she doesn't play to the far left, she goes after the center. Pair that with her election being a dress rehearsal for the manipulation of the 2020 Election via mail-in ballots, polling center shenanigans, and serious counting flaws and Sinema snatched victory from the jaws of defeat against appointed incumbent Martha McSally.
Sinema Isn't Doing This For The GOP Or The Far-Left Dems
Let's not get confused by any notions that Sen. Sinema suddenly woke up one day and found herself to be the next coming of Goldwater but as the old saying goes 'even a broken watch is right twice a day'. The comparison is apt here, while she's made a few good calls lately and most conservatives can sympathize with the joy of being followed into the bathroom by a shrieking leftist, we can't forget that we're dealing with a woman the Financial Times called a self-described "Prada Socialist", and former member of the Green Party. But as far as the Democrat's strong-arm? It definitely seems like a limp wrist.
As FT wrote,
"[T]he latest results demonstrated Sinema — who is not up for re-election until 2024 — was unlikely to be penalised by voters for going against the grain.

But that does little to reassure progressives. "There is latitude . . . people understand it is a moderate state, she needs to have these moderate positions," said Catherine Alonzo, chief executive at Javelina, a Phoenix-based consultant to companies and political campaigns. "I just think that for a lot of people this is just a bridge too far."
The point is that Sinema knows who she needs to play to in order to stay in office and it isn't La Raza or the DSA, it's the moderate Soccer-mom Democrats of Scottsdale, independents which make up an entire 1/3 of Arizona's base, and any GOP on the outs with the AmericaFirst AZGOP under Chair Dr. Kelli Ward.
Once you realize that, it's actually kind of funny for The Hill to trot out nonsense headlines like "Sinema trails potential primary challengers in progressive poll" or Yahoo's "70% of Arizona's Democratic primary voters disapprove of Sen. Kyrsten Sinema: poll" or the once venerated Arizona Republic's "Think nobody can topple Sen. Kyrsten Sinema? Wrong. She'd lose to these folks today". Every single one of these pieces treats Sinema like every other Democrat: desperate to appease the furthest left, radical activist flank of their party. But anyone who actually lives and works in Arizona will tell you that is not how you win in Sinema's power-base of the Phoenix Metro area, dubbed 'The Valley of the Sun', compare to Sen. Mark Kelly whose power base is located in Democrat-friendly Tucson where as long as you support an open border you'll be fine. But Sinema has to walk a fine line in Maricopa County or she stands to be handily ousted by the AZGOP.
In essence: this is all the Dems gaslighting, the players know the polls and they are attempting a public pressure campaign against Sinema to encourage out-of-staters to dump money into a primary against her. But here in the desert bullsh*t doesn't win elections, it just dries in the sun. No one running to the left of Sinema has a chance in her constituency, she's drifting centrist and bucking her party for her very political survival. Period.
Conservatives can nod approvingly as Sinema aggravates her own party and enjoy the benefits, but by no means should any support her based upon her policies or voting history. For further elucidation on the topic, some recommended viewing from Arizona's Nostradamus of the Desert, The Excellence of Elocution, The Oracle of Arizona: RazörFist, The Rageaholic, who absolutely nails it. EXPLICIT LANGUAGE WARNING.