Facebook's parent company Meta is continuing to show multi-billion dollar losses as founder and CEO Mark Zuckerberg's "Metaverse" bleeds the company dry.
Since 2019, Meta has lost billions of dollars a year, increasing year over year.
Zuckerberg has placed a huge bet on his Metaverse plans, which now looks like a huge money pit.
Meta, which owns Facebook, Instagram, and WhatsApp, has invested billions of dollars a year into Zuckerberg's Metaverse dream without seeing any returns.
Metaverse is a virtual-world version of the Internet that users access by wearing virtual reality headsets.
Zuckerberg hopes that most of humanity will live out their lives "virtually" on his Metaverse.
However, to most people, the project is creepy and dystopian and appears to be another plot to enslave humanity.
The Metaverse project is being led by Meta's Reality Labs division, which is the company's forays into augmented reality (AR), virtual reality (VR), and Metaverse-related software.
According to Statista's Felix Richter, in the first nine months of 2023, the Reality Labs division recorded an operating loss of $11.5 billion.
The figure suggests that the company might be on course to break its own negative record of $13.7 billion in 2022.
That's on top of a $10.2 billion loss in 2021, $6.6 billion in 2020, and $4.5 billion in 2019.
So far, over a period of just four years, Zuckerberg's Metaverse scheme has lost the company close to $50 billion, or $6B more than Elon Musk paid for Twitter.
According to Statista, the losses are: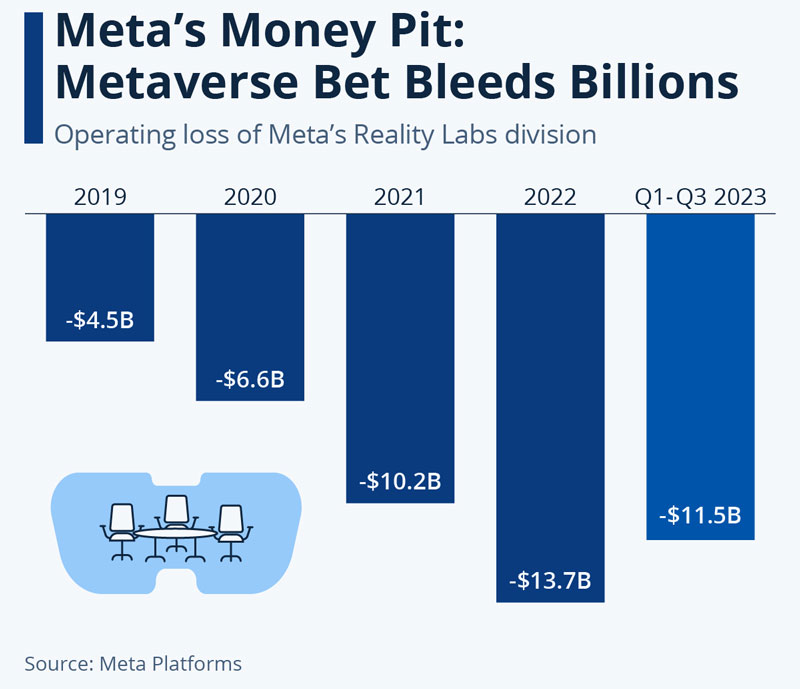 In a call with investors last year, Zuckerberg defended his long-term vision for his Metaverse.
"There's still a long road ahead to build the next computing platform, but we are clearly doing leading work here," Zuckerberg said.
"This is a massive undertaking and it's often going to take a few versions of each product before they become mainstream.
"But I think our work is going to be of historic importance and create the foundation for an entirely new way that we will interact with each other and blend technology into our lives, as well as a foundation for the long term of our business."
The losses won't end anytime soon, however.
Despite aggressive cost-cutting measures, Meta still expects "meaningful" Reality Labs operating losses to increase year-over-year in 2024.
The company has notably dropped the word "significantly" compared to its previous outlook on Metaverse losses as investors continue to jump ship.
In the short run, metaverse investments already weigh heavily on the company's results.
In 2022, the company's operating margin dropped from 40 to 25 percent, as total operating profit declined from $46.8 billion in 2021 to $28.9 billion last year.
The company's once-profitable platforms – Facebook, Messenger, Instagram, and WhatsApp – have also contributed to the decline.
A broader advertising slowdown and the decline in popularity of the apps, amid competition from rivals such as TikTok, have also contributed.
The $13.7 billion operating loss of the Reality Labs division stood out even more due to the overall decline of the company, however.
Without growth in Meta's core business, the company cannot simply gloss over the losses.
READ MORE: Facebook 'Fact Checker' Caught Running Political Censorship Operation to Manipulate Voters