Hunter Biden's biolabs in Ukraine have received tens of millions in U.S. tax dollars from the Department of Defense (DOD) to carry out disturbing experiments, according to bombshell government spending data.
The U.S. federal government's official spending database, USASpending.gov, shows that the DOD has awarded Hunter Biden's Metabiota labs millions of dollars in lucrative contracts.
Metabiota, a San Francisco-based startup that compiles data from around the world to "predict" disease outbreaks, runs several labs in Ukraine that have been linked to dangerous bioweapons research.
The company is partly owned by Democrat President Joe Biden's son Hunter and is mentioned in emails found on his notorious "Laptop from Hell."
Hunter Biden's investment firm, Rosemont Seneca Technology Partners, invested $500,000 in Metabiota in the early days.
Rosemont Seneca Technology Partners was reported to have a 13.4% stake in the company in 2014.
Metabiota went on to raise several million more from investment giants like Google and Goldman Sachs.
The firm has biolabs in several countries, including Ukraine, where Hunter played an important role in the company's activities.
The company is believed to have carried out dangerous experiments with bat viruses in at least one of its labs.
In their pitches to potential backers, Hunter bragged that they had done more than just get financing for the company.
He boasts they had also helped it "get new customers," including "government agencies" in the case of Metabiota, according to Daily Mail.
Government data shows Hunter Biden secured millions in government funding and grants for Metabiota after he became part owner of the firm.
According to DC Draino, Metabiota was one of the 46 Ukrainian bioweapon labs that the US government partnered with.
Remember when the Pentagon confirmed the US partnered w/46 Ukrainian Bioweapon labs?

And Hunter Biden secured millions for 1 of the labs – Metabiota?

Well now we have a 2/24/22 letter from Zelensky ordering the destruction of all gov't files for Metabiota

I'm sure it's nothing pic.twitter.com/KUZhgcHPoc

— DC_Draino (@DC_Draino) January 29, 2023
Hunter Biden's laptop contains several documents regarding his team's 50/50 ownership of Metabiota.
The following documents are two emails from the laptop discussing Metabiota: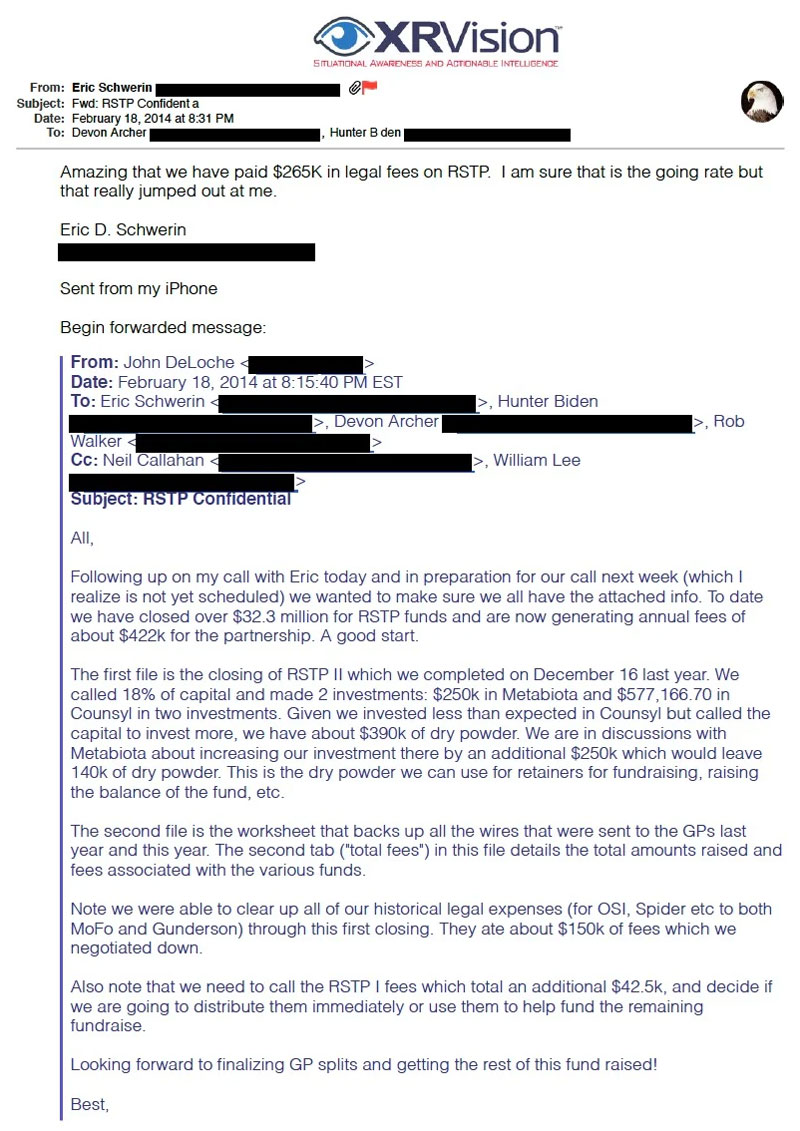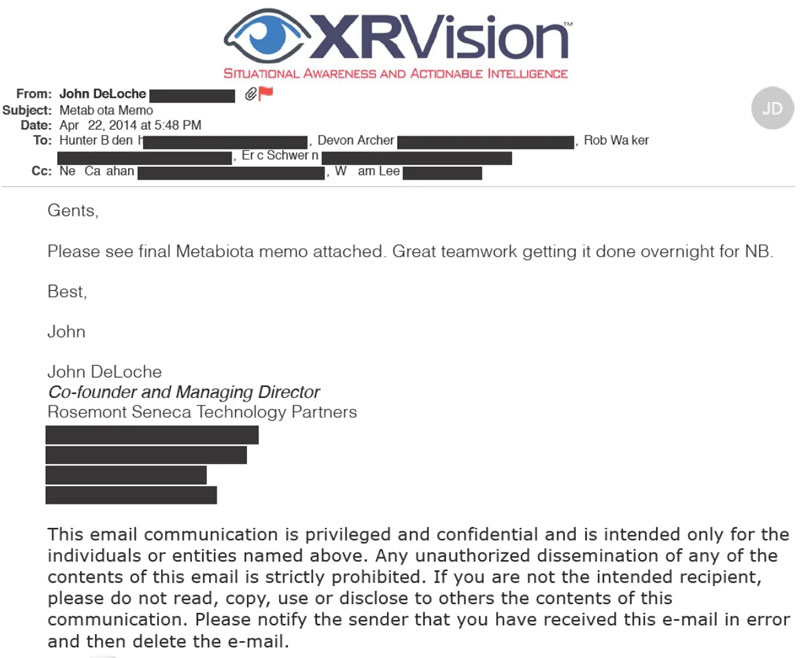 Notice how it was a DOD cash infusion to MB and not DHS like the prior year

The emails from Hunter Biden's laptop discuss CIA comparisons…

Was Hunter Biden the front man for running US gov't $$ to Metabiota for unsupervised gain of function development?

🔦: @WarClandestine👇🏼 https://t.co/ThajjTPo5I

— DC_Draino (@DC_Draino) January 31, 2023
Before the Rosemont Senaca agreement, Metabiota was given a $349,513 contract from the government.
Following Hunter's involvement, Metabiota was awarded a huge taxpayer-funded contract with the Department of Defense worth a staggering $23.9 million.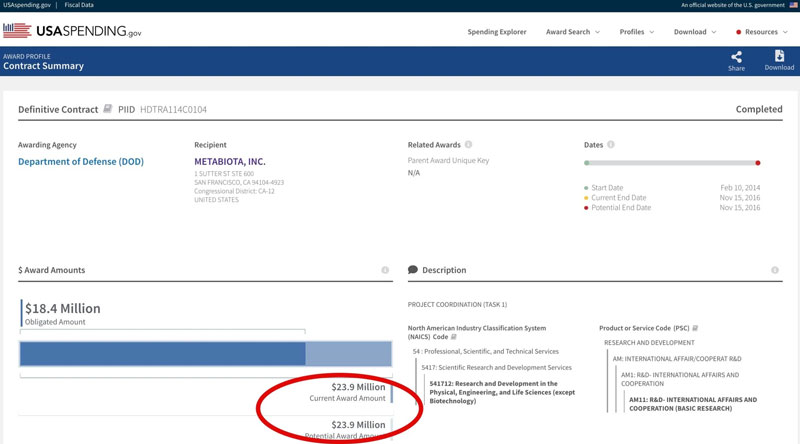 Before Hunter was involved, Metabiota received a $649,882 grant from the US government.
After Hunter became involved, Metabiota received several million in government grants.
According to Daily Mail, Hunter Biden connected a corrupt Ukrainian gas company called Burisma with the Metabiota for an undisclosed "scientific project."
Hunter Biden was a board member at Burisma and was paid $50,000 per month in salary, despite having no experience in the energy sector, nor being able to speak Ukrainian.
Hunter's father was the vice president at the time.
The Daily Mail added that Metabiota is supposedly a medical data company.
However, in 2014, Metabiota Vice President Mary Guttieri contacted Hunter explaining how they could "assert Ukraine's cultural and economic independence from Russia," an unusual ambition for a biotech corporation.
"Thanks so much for taking time out of your intense schedule to meet with Kathy and I on Tuesday," the email reads.
"We very much enjoyed our discussion.
"As promised, I've prepared the attached memo, which provides an overview of Metabiota, our engagement in Ukraine, and how we can potentially leverage our team, networks, and concepts to assert Ukraine's cultural and economic independence from Russia and continued integration into Western society."
Burisma Executive Vadym Pozharskyi emailed Hunter four days after Guttieri's email in April 2014.
Pozharskyi disclosed that Hunter Biden had proposed a "scientific project" involving Burisma and Metabiota in Ukraine.
"Please find few initial points to be discussed for the purposes of analyzing the potential of this as you called, 'Science Ukraine' project," Pozharskyi wrote.
After Russian soldiers invaded Ukraine, the project turned into a national security liability.
The controversy surrounding Hunter Biden is far from over.
The Department of Defense awarded Metabiota a $2.5 million grant for studying bat viruses for at least one of its biolabs.
This Metabiota facility in Africa was studying viral sharing among bats that likely involved the coronavirus.
According to the information listed, the funding was for:
SCIENTIFIC RESEARCH – COMBATING WEAPONS OF MASS DESTRUCTION: EVALUATING ZOONOTIC VIRAL SHARING AMONG BATS, PRIMATES AND PEOPLE IN A HIGH RISK TRANSMISSION INTERFACE IN SOUTHERN TANZANIA.
READ MORE: Russian Military Accuses Pentagon of Transferring Bioweapons Projects Out of Ukraine