Democrat President Joe Biden played golf up to "twelve times" with his son's business association a shady deal with Chinese oligarchs, FBI documents have revealed.
Hunter Biden's former business associate Rob Walker told agents about the close relationship in a December 2020 transcribed interview with the FBI.
As part of the business arrangement, Walker wired money from China to the bank accounts of Biden family members.
Walker spoke to the FBI about his role in Hunter Biden's business enterprise with Chinese partners.
During the interview, he described his golf outings with Joe Biden, according to a partially redacted transcript of his FBI interview.
"Okay. Have you met the V.P.?" FBI agent Wilson, whose first name is redacted in the transcript, asked.
"Yes," Walker replied.
Wilson then continues to press Walker about his interactions with Joe Biden.
"I mean I would get called and I'd.., I'd play golf with him probably eight to twelve times," Walker stated.
"Ah, I played with him at um.., ah.., Bully Rock [sic] in Havre de Grace with ah.., Beau and Hunter one time," he continued.
"That's probably the first time and then um..," Walker clarified.
Walker further recalled that he "played with 'em in D.C. probably ten times or so."
He explained that Hunter Biden would invite Walker to golf with his father.
"'[H]ey, my dad's gonna go play golf…, you're…, you've gotta come with me'," Walker said Hunter would say to him.
"I mean, I'm sure he knows who I am," Walker said, referring to Joe Biden.
"But he doesn't know me," Walker insisted.
Emails from Hunter Biden's abandoned laptop archive appear to confirm Walker's golf outing with Joe Biden and his sons at the Bulle Rock golf course in Havre de Grace, Maryland.
Beau Biden died of brain cancer in May 2015 at the age of 46.
"In Havre de Grace Sunday- Dad, Beau, Hunter, and Rob Walker?" Hunter Biden emailed Beau Biden in September 2010.
Joe Biden was cc'ed in the email.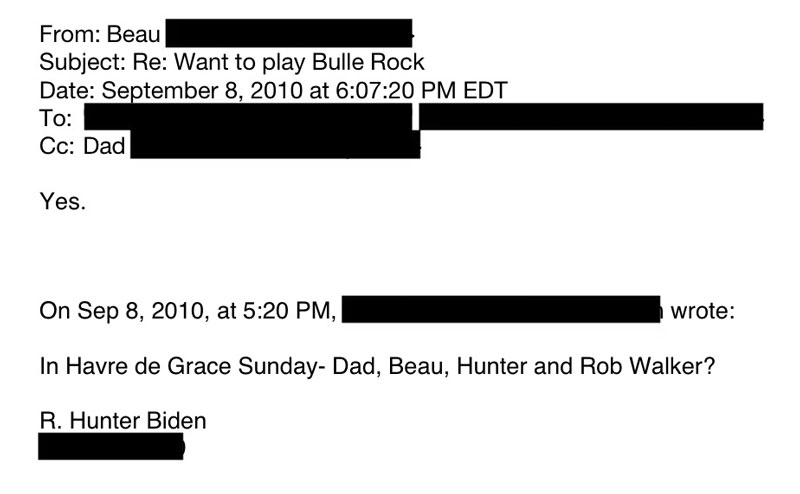 "Yes," Beau Biden replied.
Joe Biden and his late son were using pseudonyms in the email thread.
Walker also appeared to visit the White House more than a dozen times when Joe Biden was vice president.
The visits were revealed in White House visitor logs, Fox News reported.
The New York Post also reported that Walker's wife, Betsy, worked as Jill Biden's personal assistant during Biden's vice presidency.
Officials from the Chinese Communist Party-linked energy company CEFC met with Joe Biden on at least one occasion after his vice presidency.
The meetings took place while Hunter Biden was attempting to negotiate a business deal with Chinese oligarchs, Walker recalled to the FBI.
The CEFC meeting was previously revealed by IRS whistleblower Gary Shapley.
Shapley discussed the meeting when he testified in May before the House Ways and Means Committee.
Hunter Biden's former business associate Rob Walker described to the FBI how Joe Biden met with CEFC officials because Hunter Biden wanted to use his dad's appearance to improve his chances of working out a deal @DailyCaller https://t.co/6FYqt4eJBT pic.twitter.com/DZhkiXqWYK

— James Lynch (@jameslynch32) September 27, 2023
"Did um.., did the V.P. ever show up at any CEFC meeting or anything like that.., even once he was out of office?" Wilson asked.
"Yes," Walker answered.
"It was out‐of‐office," Walker said.
"D. C. at the Four Seasons," he added.
"He literally sat down," Walker insisted.
"I think Hunter said um.., I may be tryin' to start a company, ah, or tried to do something with these guys and could you.., and think he was like 'if I'm around'….and he'd show up," Walker stated.
Wilson asked Walker whether Hunter Biden used his father's presence to improve his chances at "makin' a deal work out" with CEFC.
"Sure," Walker replied.
"Any times when he was in office or did you hear Hunter say that he was settin' up a meeting with his dad with them while dad was still in office?" Wilson wondered.
"Yeah," Walker stated.
Walker's business dealings with Hunter Biden include $3 million worth of payments he received from Chinese firm State Energy HK, a cutout of CEFC.
The payments were revealed in bank records released by the House Oversight Committee.
Walker wired more than $1 million of the State Energy HK payments to Biden family members, the bank records show.
The committee has requested an interview with Walker regarding his involvement with the Bidens' foreign business dealings.
Walker answered questions posed by the FBI related to the State Energy HK payments and his understanding of Hunter Biden's business dealings with CEFC associates, the FBI transcript, and an FBI FD-302 form summarizing the interview show.
The FBI declined to comment on Walker's interview.
"Hunter and CEFC?" Wilson wondered.
"Like how…, what was the breakdown of like how that was goin?"
"I think it was a little over three million dollars," Walker said.
He confirmed the money was wired to Robinson Walker LLC, an entity he established as a "layer for protection" for receiving payments.
"I gave Hunter roughly nine something," Walker specified, the transcript shows.
"I kept like nine something then I gave James [Biden] probably over a million."
Wilson revisited the State Energy HK payments and their connection to CEFC later in Walker's testimony.
"[D]id you know it was gonna be comin' from like the State Energy HK Limited account when it came in?" Wilson questioned Walker.
"Hmph hmph," Walker replied.
"Did they tell you that," Wilson pushed Walker.
"I was told that it was ah.., ah.., ah.., Zang's ah.., like Zang's CEFC account," Walker said.
"It came in from HK," he explained.
Hunter Biden set up a separate business arrangement with a CEFC associate called Hudson West III.
He brought in just under $1 million from the business in 2017, his failed guilty plea with the Department of Justice (DOJ) states.
He admitted in court to making the arrangement with CEFC Chairman Ye Jianming.
Jianming is a Chinese Communist Party-linked businessman who was later arrested by authorities in China for suspected bribery.
He made more than $600,000 from CEFC in that same year.
The profits include a $100,000 payment sent right after he bragged to a CEFC associate about what the Biden family brought to the table.
THE NEXT DAY:

One of Hunter's shell companies, OWASCO PC, received $100,000 from CEFC. pic.twitter.com/2lNX5mfTux

— Oversight Committee (@GOPoversight) June 27, 2023
Hunter's text messages were released by the Oversight Committee in June.
"The Biden's [sic] are the best I know at doing exactly what the Chairman wants from this [partnership]," Hunter Biden allegedly texted on August 3, 2017.
The committee disclosed that shell company Owasco P.C. received $100,000 from CEFC on the very next day after the text was sent.
IRS whistleblower Joseph Ziegler testified in July that Hudson West III brought in $3.7 million for all parties involved.
Ziegler confirmed the $100,000 payment from CEFC.
He also confirmed the $3 million from State Energy HK to Rob Walker.
Walker developed a relationship with Hunter Biden during the Clinton administration when Walker worked at the Department of Transportation and Biden worked for the Commerce Department, the FBI documents show.
He went on to work for a lobbying firm started by Hunter Biden and then Rosemont Seneca Technology Partners.
The company was a tech investment fund launched by Hunter Biden and other business associates.
Rosemont Seneca Technology Partners rebranded to RSTP and then to Pilot Growth, its current iteration, Walker told the FBI.
He was once listed on its website as a founder and partner at the firm, archives show.
Walker's since-deleted bio on the Pilot Growth website mentioned his international business dealings and federal lobbying efforts.
Walker was also included in the infamous email thread where Hunter Biden's former business associate James Gilliar suggested giving Joe "Big Guy" Biden a 10% stake in a potential business deal.
"10 held by H for the big guy?" Gilliar said in May 2017, referring to Joe Biden.
The email was first reported by the New York Post ahead of the 2020 presidential election.
Joe Biden falsely stated that Hunter Biden did not make money from China during a debate with then-President Trump leading up to the 2020 election.
Gilliar also sent texts about Joe Biden's potential involvement to Tony Bobulinski, according to the Oversight Committee.
Bobulinski was another business associate in the email thread.
According to an FD-302 form summarizing his interview, Bobulinski told the FBI in December 2020 that Walker was a "proxy" for the Biden family
Bobulinski indicated the CEFC discussions began when Joe Biden was vice president and Hunter and James Biden demanded compensation for using the family name to advance CEFC's interests.
"CEFC had used its relationship with HUNTER BIDEN and JAMES BIDEN – and the influence attached to the BIDEN name – to advance CEFC's interests abroad," Bobulinski's FD-302 document reads.
"HUNTER BIDEN and JAMES BIDEN did not receive any monetary compensation for their assistance in these projects.
"HUNTER BIDEN and JAMES BIDEN did not receive any compensation because JOSEPH BIDEN was still VPOTUS during this time period.
"HUNTER BIDEN and JAMES BIDEN both wanted to be compensated for the assistance they had provided to CEFC's ventures; in particular, they believed CEFC owed them money for the benefits that accrued to CEFC through its use of the BIDEN family name to advance their business dealings," the document adds.
In addition, Bobulinski recalled a meeting with Joe Biden in Beverly Hills, California.
During the meet, they allegedly discussed a proposed $10 million joint venture known as "Sinohawk," the FD-302 form asserts.
Bobulinski told the FBI the New York Post's emails were real and had records of them on cellular devices.
His attorney also provided the FBI a hard drive with emails and communications that the FBI watched him properly upload, the form states.
Shapley disclosed a threatening text message Hunter Biden allegedly sent a Chinese business associate that appeared to reference Joe Biden's presence in the room.
"I am sitting here with my father and we would like to understand why the commitment made has not been fulfilled," Hunter Biden allegedly texted Chinese business associate Henry Zhao on July 30, 2017.
"Tell the director that I would like to resolve this now before it gets out of hand, and now means tonight.
"And, Z, if I get a call or text from anyone involved in this other than you, Zhang, or the chairman, I will make certain that between the man sitting next to me and every person he knows and my ability to forever hold a grudge that you will regret not following my direction," he added, according to Shapley.
"I am sitting here waiting for the call with my father."
According to the Washington Free Beacon, location data on images from Hunter Biden's laptop archive place him at his father's Wilmington, Delaware residence on the day the text was sent.
Zhao appeared to be a translator for a CEFC official named Zhang, referred to as Zang in the FBI transcript and correctly attributed in the FD-302 document for Walker's interview.
Zhang was either the number two or three-ranked CEFC official below Ye Jianming.
Shapley and IRS whistleblower Joseph Ziegler have accused the Department of Justice (DOJ) of giving Hunter Biden special treatment during its ongoing investigation into his taxes and firearms possession.
The Ways and Means Committee released Walker's FBI interview transcript and FD-302 form alongside a trove of documents substantiating the whistleblower testimony.
Hunter Biden's former business associate Devon Archer testified to the Oversight Committee in July, as Slay News reported.
Archer said Joe Biden spoke with his son's business associates on the phone roughly 20 times.
He recalled a spring 2014 dinner Joe Biden attended alongside Russian oligarch Elena Baturina.
Archer also noted a spring 2015 dinner with Ukrainian energy firm Burisma Holdings executive Vadim Pozharskyi.
According to bank records released by the House Oversight Committee, Hunter Biden was paid more than $80,000 per month from Burisma as a board member of the company despite having no prior experience in the energy industry or Ukrainian affairs.
The Biden family and its associates received more than $24 million from Ukraine, Russia, China, Romania, and Kazakhstan.
Evidence of the foreign payments was revealed in a House memo circulated prior to the first impeachment inquiry hearing for President Biden.
House Oversight Chairman James Comer said at the hearing that the $24 million number was determined by reviewing suspicious activity reports sent by banks to the Treasury Department.
House Oversight subpoenaed Hunter and James Biden's personal and business bank records following the hearing.
Comer revealed a $200,000 payment James Biden sent to his brother, Joe Biden, on the same day he was sent $200,000 from Americore, a defunct healthcare firm.
James Biden signaled to the company his last name could "open doors" and promised an investment from the Middle East, bankruptcy court filings show.
On Friday, the White House said that James Biden was repaying a loan and downplayed the payment.
The White House said in June that Joe Biden was "not in business" with his son.
READ MORE: Joe Biden Bought Beach House for $2.75M Cash Just after Hunter Demanded Millions from Chinese Oligarch