Democrat House Speaker Nancy Pelosi's hand picked committee of January 6 "investigators" has been forced to admit that key member Rep. Adam Schiff (D-CA) used doctored evidence during a hearing.
While making his case to hold President Donald Trump's former chief of staff, Schiff showed "a text message from Jim Jordan to Mark Meadows" that had been digitally manipulated to suit his agenda.
The bombshell discovery was revealed by the Federalist.
Reporting by The Federalist revealed that Schiff "and his staff doctored a text message between Rep. Jim Jordan and former White House Chief of Staff Mark Meadows."
The committee soon confessed to the crime by email, admitting they "did, in fact, doctor the text message."
The committee failed to correct the "error" by presenting the true facts surrounding the text conversation between the Republicans.
In the full contexg of the messages, Rep. Jim Jordan had "forwarded to Meadows a three-paragraph legal summary from attorney Joseph Schmitz, summarizing a four-page legal memorandum Schmitz had written regarding congressional certification of the 2020 presidential electoral vote count."
It wasn't secret either. It was published the next morning on everylegal.vote with the heading "DISCUSSION DRAFT" and timestamps.
Democrats selectively edited the whole thing down to five lines and made that into a presentation slide, hoping to mislead the rest of the January 6 inquisitors with bogus evidence.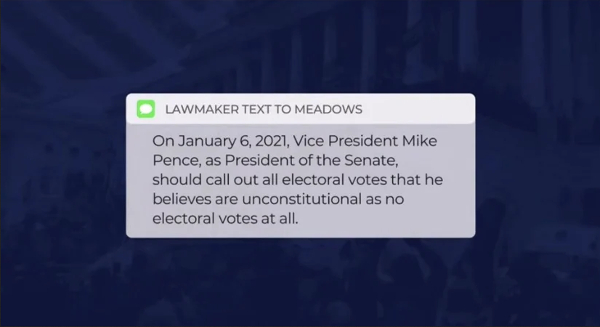 "The Select Committee on Monday created and provided Representative Schiff a graphic to use during the business meeting quoting from a text message from 'a lawmaker' to Mr. Meadows."
They try to play down the forgery.
"In the graphic, the period at the end of that sentence was added inadvertently," the spokesman admitted.
"The Select Committee is responsible for and regrets the error."
It was more than just an added period at just the right place.
Ignoring two paragraphs
After they got the email committee response, The Federalist is wondering aloud, "how one could 'inadvertently' cut a sentence in half and eliminate the final two paragraphs of a detailed legal summary."
Especially when that summary spells out all of the relevant law which said former President Trump was fully within his legal rights to ask Mike Pence to exercise obscure constitutional principles.
Another thing the committee isn't talking about is the sidestep to avoid explaining "why Schiff attributed the content of the text to Jordan, 'a lawmaker,' rather than to Schmitz, the attorney who wrote it."
Former Department of Defense Inspector General Joseph Schmitz also provided "a four-page draft Word document drafted by Schmitz that detailed Schmitz's legal reasoning for suggesting that Pence had the constitutional authority to object to the certification of electoral votes submitted by a handful of states."
Democrats are still trying to figure out how to control that damage.
Schiff decided to cut away everything that helped Donald Trump escape insurrection charges and was left with half a text message to show the committee.
"People were sending around these law review articles and debates left and right because we had an interest in learning the facts and getting them right.
"And if it's somehow seditious in this country to debate or share a law review article on Alexander Hamilton's view on things, that's not really a country I want to be a part of anymore," one Republican lawmaker close to Jordan observed.