One of the key accomplices in deceased pedophile Jeffrey Epstein's child sex trafficking operation has been found dead in a Paris jail cell.
Former model scout Jean-Luc Brunel was in jail accused of procuring underage girls to traffic to Epstein.
He was found hanging in his cell in La Santé, Paris, at approximately 1 am during a night check-in by guards.
The fashion agent was arrested at Charles de Gaulle airport in December 2020 while trying to fly to Senegal.
The death comes just days after Britain's Prince Andrew, 62, settled his child rape lawsuit with Epstein victim Virginia Roberts Giuffre.
Giuffre had accused Brunel, 74, of providing Epstein with over a thousand young women and underage girls.
Brunel was awaiting trial in France for raping minors and child sex trafficking.
"A night patrol found his lifeless body at about 1 am," according to multiple media reports.
"A judicial inquiry has been launched, and early evidence points to suicide."
https://twitter.com/disclosetv/status/1494989267642245120?ref_src=twsrc%5Etfw
Brunel founded Karin Models and MC2 Model Management.
Prosecutor Remy Heitz, after arresting Brunel, said Brunel "is suspected of having committed acts of rape, sexual assault and sexual harassment on various minor or major victims and of having, in particular, organized the transport and accommodation of young girls or young women on behalf of Jeffrey Epstein."
Because many of the crimes he was accused of fell outside of the statute of limitations, Brunel was walking free until Giuffre went on record saying he raped her in the early 2000s when she was between the ages of 16 and 19.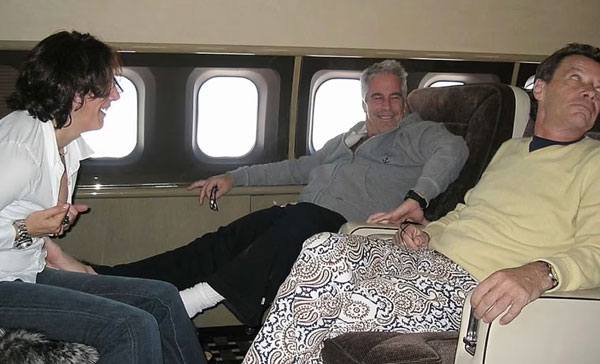 Officers were set to arrest Brunel in January 2020 following further inquiries, according to The Daily Mail.
But on December 16, he was intercepted at Charles de Gaulle airport in Paris with a one-way ticket to Dakar, capital of Senegal, in West Africa.
"This led to his immediate arrest and he was placed in custody," said the source.
"The multiple rape charges solely relate to the testimony of Virginia Giuffre, and not any of the other alleged rape victims.
"The sexual harassment indictment is nothing to do with the Epstein case, and instead relates to incidents in 2016 following a complaint by another woman who has not gone public.'
The "multiple rapes" of Giuffre – now a mother of three who was called Virginia Roberts before her marriage – were said to have mainly taken place at Epstein's home on the private island of Little Saint James, in the U.S. Virgin Islands, also known to locals and authorities as "Pedophile Island."
Giuffre had produced sworn testimonies saying that both Brunel and Prince Andrew attacked her there.
According to French law, a French citizen such as Brunel can be tried in France for offenses committed abroad.
Epstein case: ex-model agent Jean-Luc Brunel was found dead by hanging in his prison cell.https://t.co/F4ZkEN6SFy

— Disclose.tv (@disclosetv) February 19, 2022
He died just like Epstein did. https://t.co/O03FsyxsKP

— The Daily Beast (@thedailybeast) February 19, 2022