Fox News star Jesse Watters has blown the lid off the Jeffrey Epstein scandal by telling his millions of prime-time viewers that his team has found new evidence that may break the case wide open.
During a segment on his show, "Jesse Watters Prime Time," the host said that his team has been analyzing recently unsealed documents in a court case against Epstein's convicted sex-trafficking accomplice Ghislaine Maxwell.
As Slay News has previously reported, those documents reveal that one of Epstein's victims claims to have copies of the deceased sex pedophile's "blackmail tapes."
The victim, Sarah Ransome, says Epstein forced her to watch the videos that feature the late sex trafficker's wealthy associates raping underage girls.
However, Ransome alleges in a newly released deposition that she made copies of the videos and kept them.
Ransome made the claims in the deposition taken as part of a lawsuit that Epstein victim Virginia Roberts Giuffre filed against Maxwell.
"Details about Epstein's underage sexual blackmail ring are still under lock and key," Watters said about the revelations.
"It is one of the biggest scandals in American politics and there is still so much we don't know.
"But Primetime has found new evidence buried in a trove of unsealed court documents including victim depositions from a defamation lawsuit against Gishlaine Maxwell.
"Sarah Ransome met Epstein when she was a young model.
"Ransom confirmed that Epstein kept videotapes of high-profile men raping underage girls for sexual blackmail.
"She said she saw some of those sex tapes herself saying, 'when my friend had sexual intercourse with blank and blank sex tapes were filmed in each case by Jeffrey' she also said Epstein was clever, he made sure he wasn't in the videos.
"Ransom says she got a hand on one of those videos and backed it up on a thumb drive, and sent them to different locations in Europe because she's scared. Where is it?"
A federal judge just released more documents about Epstein and his accomplice Ghislaine Maxwell, including Ransome's deposition.
Ransome says the footage she saw will "haunt me for the rest of my life."
She says she has stashed copies of the sex tapes across Europe in case something happens to her.
Included in the newly unsealed documents are emails sent by Ransome confirming the existence of the tapes.
Ransome writes: "When my friend had sexual intercourse with (redacted) and (redacted), sex tapes were in fact filmed on each occasion by Jeffrey.
"Thank God she managed to get ahold of some footage of the filmed sex tapes which clearly identify the faces of (redacted) and (redacted) having sexual intercourse with her.
"I will be more than willing to swear under oath and testify in court over these sex tapes….it will break your heart into a million tiny pieces when you watch this footage."
Epstein is not in the video because Ransome says he was "clever" but she has seen "with my own two eyes the evidence of these sexual acts."
Ranson added that only one other person knows where the tapes are "in case anything happens to me before the footage is released."
Ransome also claims she has the footage on several USB sticks she has stored at various locations in Europe.
WATCH:
Jesse Watters

New evidence of Epstein blackmail videospic.twitter.com/KhxCmhxDUF

— Citizen Free Press (@CitizenFreePres) January 4, 2023
According to The Daily Mail:
The theory about the tapes has been fueled by two of Epstein's victims, Maria Farmer and Giuffre, who claim that they saw a room full of CCTV monitors at Epstein's $65million mansion in New York – including some showing cameras in the toilets.
When police raided Epstein's mansion in 2019 they found dozens of tapes of girls in a twisted library the disgraced financier kept. 
Maxwell appeared to have admitted the tapes existed after being tricked by a journalist for the TV show 60 Minutes, telling him: 'I don't know where they are'.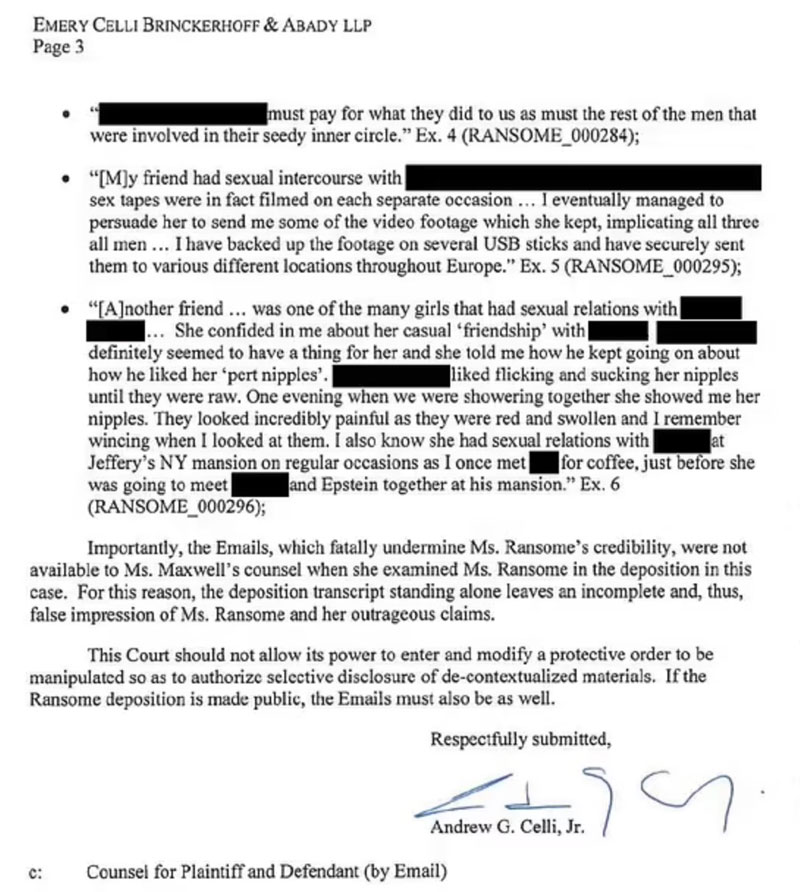 Today's #PervertNEWS: #Epstein #pervert 😒
"When my friend had sexual intercourse with (*redacted) and (*redacted) sex tapes were filmed on each occasion by Jeffrey" – #SarahRansome#JeffreyEpstein victim claims to have seen sex tapes of the #pedophile. https://t.co/tv2opKWOWL

— Rap Tor (@Raptor2u) December 14, 2022