A new email has emerged that spells doom for the Democrat president as it reveals that Joe Biden was directly linked to his son's shady deal to sell U.S. natural gas to the Chinese Communist Party's energy company.
Biden's presidency has been in a downward spiral as his administration continues to face mounting scandals.
The ongoing and deepening classified documents scandal already has top Democrats abandoning Biden.
Senator Joe Manchin (D-WV) is now even suggesting he may challenge Biden for the Democrats' presidential nomination in 2024.
In the midst of this chaos at the White House, Biden's loyal Chief of Staff Ron Klain has now decided to jump ship.
And now there is more bad news for team Biden.
A newly emerged email from Hunter Biden's infamous "Laptop from Hell" shows that Joe Biden had discussed a business deal with his son, after all.
The Daily Mail is reporting in an exclusive that Joe Biden was named in an email found on Hunter's laptop.
The president is named during a discussion about a 25 million-ton gas deal with Communist China.
The British publication reported that in October 2017, Hunter and his uncle Jim Biden were brokering a multi-million dollar deal to supply gas from Louisiana to the nation on behalf of Chinese energy giant CEFC.
It was in the interim period between the end of Biden's presidency and his announcement that he was running for the presidency in 2020.
The report names a Louisiana-based lawyer involved in the deal. Bob Fenet wrote in an October 27, 2017 email that he had arranged "a call from Joe Biden and Hunter Biden on Monday morning to discuss the purchase of the 5 million tons of gas."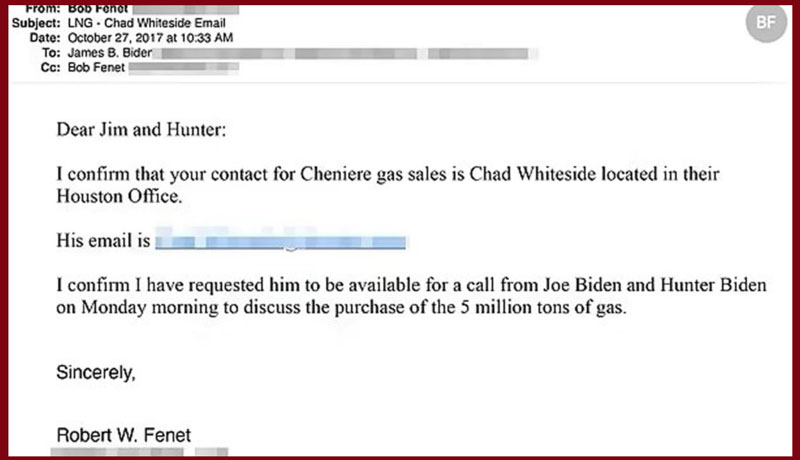 Fenet wrote in the October 27, 2017 email that he had arranged "a call from Joe Biden and Hunter Biden on Monday morning to discuss the purchase of the 5 million tons of gas."
The Daily Mail report suggests that it is possible that Fenet meant "Jim" Biden and not "Joe" Biden.
However, the White House did not respond to Daily Mail's requests for comment.
There is more evidence that Joe Biden was considered part of the "family" that was involved in the project.
"We Biden's often fraught with problems, that they can can [sic] come from working with family members, are of a different mind," Jim Biden wrote to Fenet on October 19.
"It's all about family, and people we choose to do business with."
The report notes that Biden would go on to hire former Cheniere board member Heather Zichal as his campaign climate adviser in 2020.
He had hired former Cheniere lobbyist and vice president Ankit Desai as his political director in 2005.
So Joe Biden certainly had ties to the Cheniere gas company.
Fenet detailed the potential gas deal with the Chinese in a subsequent email.
'The Ashton Fenet and Sons Construction Company, Inc. will, in a joint venture with a Louisiana company, provide a 25-year natural gas-LNG supply to your group," he wrote.
"We can begin supplying LNG in 2018 at the rate of three, four, five, or six million metric tons of LNG on a five-year basis.
"From year five until year twenty-five, we will have the capacity to supply 13 million metric tons per annum of LNG to the Port in China. (To Be Decided).
"If your client will purchase a twenty-five-year stream of LNG, I can build the plant for $12 billion dollars," he added.
The following month Hunter wrote a letter addressed to CEFC Chairman Ye Jianming.
Hunter assured Jianming that the deal would provide "large quantities of LNG at very competitive rates while also advancing the long-term goals of CEFC through a partnership or acquisition of a promising LNG terminal project in Louisiana."
Hunter Biden added that he was "making inquiries regarding arranging a meeting for you with the Chairman of Cheniere."
​​Cheniere would go on to sign a long-term deal with a different Chinese energy firm, China National Petroleum Corp.
Hunter and Jim's venture with CEFC eventually collapsed, however, the report notes.
It fell through after Ye and his right-hand man Patrick Ho were arrested for bribery and corruption offenses.
But that came after the Chinese had poured at least $10 million into their joint venture with the Bidens.
READ MORE: Hunter's $50k Rent Payments to Joe Biden Linked to Shady Deal with Chinese Communist Party Energy Firm