Democrat President Joe Biden was met with more chants of "Let's Go Brandon" while visiting storm-torn Kentucky this week.
On Wednesday, Biden and the first lady toured the American Mid-West.
They decided to split up and cover more territory so Jill Biden went off to Wisconsin while the president went to survey the massive tornado damage.
Jill Biden was supposed to be sympathizing with the victims of the Christmas Parade Massacre in Waukesha but while expressing her heart-felt sympathy, she didn't say a single word about domestic terror or racist hate crimes.
While Jill visited kids fighting for their lives in the hospital, Joe landed in Kentucky to chants of "Let's Go Brandon."
When Joe Biden's armor plated limo pulled up in Mayfield, Kentucky "he was reportedly greeted with chants of Let's Go Brandon from the assembled crowd."
He pretended not to notice.
Then again, he may not have understood what they were saying.
Local reporter Austin Horn, was on the scene and reported the news via Twitter.
Two "Let's go Brandon"s from the crowd as Biden gets out pic.twitter.com/1syheIGQx0

— Austin Horn (@_AustinHorn) December 15, 2021
"Two Let's go Brandons from the crowd as Biden gets out," Horn tapped.
The BBC couldn't believe it either.
Tara McKelvey from across the pond noted all the Trump flags in the crowd.
Deplorable supporters of the 45th President aren't supposed to be allowed into Democrat events.
She started looking around nervously for security.
Trump flags in the crowd
Assured the secret service was all over the place, McKelvey then tweeted, "I'm with the president in Mayfield.
"Looking at destruction.
"There is a Trump flag and when Biden got out of the motorcade someone called: 'Let's go, Brandon.'
"They said it twice."
Biden went out to pray with members of the community for strength to endure the loss.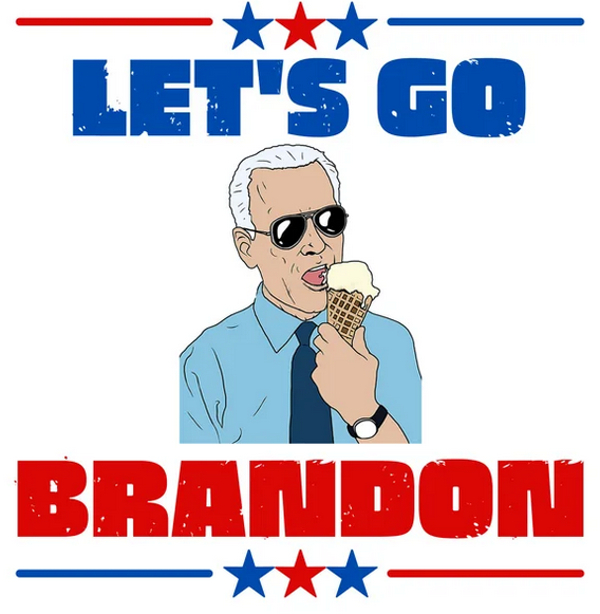 After praying for the cameras, Biden had a chat with Kentucky Governor Andy Beshear at Fort Campbell.
There they were safe from Brandon chanting crowds so His Wisdom quickly switched gears to hyping his infrastructure pork package.
FEMA will be around with all the gear but these kinds of things will only keep happening until his pork package gets passed. It's all about the climate change.
FEMA administrator Deanne Criswell confirms "storms like these are "going to be our new normal and the effects that we're seeing from climate change are the crisis of our generation."
I'm with the president in Mayfield. Looking at destruction. There is a Trump flag and when Biden got out of the motorcade someone called: "Let's go, Brandon." They said it twice. https://t.co/5RuLK62O2Q pic.twitter.com/XTWtXE6ASu

— Tara McKelvey (@Tara_Mckelvey) December 15, 2021
So many people are following Joe Biden howling the slur that "golf equipment producer Titleist has banned customers from adding the phrase 'Let's Go Brandon' to their custom imprinted golf balls."
Acushnet Company "reserves the right to reject orders for imprints on our products that may, in our sole discretion, be inconsistent with our company values or brand identity, including, but not limited to logos, designs and/or personalizations that are negative in nature, advocate violence or illegal activity, or are slurs, hateful, threatening, libelous, defamatory, vulgar, obscene or pornographic."
When Fox News tested the company's rules, they had no problem ordering ones with "F Trump," "ACAB," "Antifa," "Kill Cops," "Impeach Trump," and "Kill Trump."
All they get with those phrases is "Thank you for your order."