Democratic House Speaker Nancy Pelosi's (D-CA) husband Paul was arrested just before midnight on Saturday in Napa County California.
82-year-old Paul Pelosi was charged with a DUI.
He reportedly had a blood-alcohol level above 0.08.
Paul Pelosi was booked into jail on two counts a few hours after the arrest.
He was charged with driving under the influence and driving with a blood alcohol content level of 0.08 or higher.
TMZ is reporting he was booked into a Napa County, California jail and was hit with a $5,000 bond.
The Pelosi's own a vineyard in Napa Valley.
Nancy was scheduled to give the commencement address to Brown University graduates in Rhode Island but we do not know if she was with Paul at the time of his arrest.
Paul Pelosi was booked for DUI at 4:21 a.m.  He was arrested at 11:44 p.m. Saturday.
Pelosi was released at 7:26 a.m.
House Speaker's husband Paul Pelosi charged with DUI in California https://t.co/oWWKvV8nzV

— The Washington Times (@WashTimes) May 29, 2022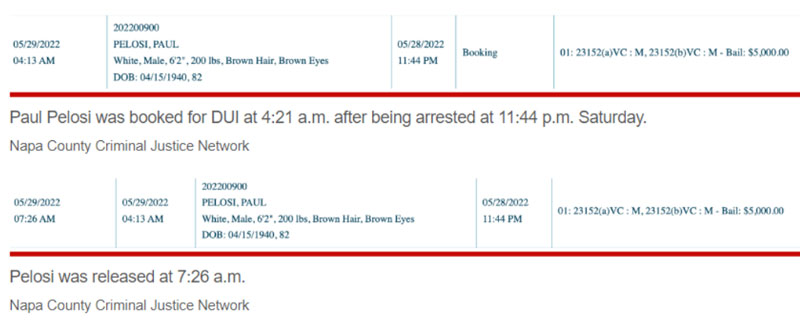 From The Daily Mail:
Nancy has not yet commented on his arrest. 
She made no mention of it while giving a commencement speech to graduating students at Brown University in Rhode Island on Sunday. 
The couple owns a vineyard in Napa, in addition to a home in nearby San Francisco, but she does not drink, according to previous statements given by her representatives. 
The sprawling estate is one of many the couple owns.
The property on Zinfandel Lane sits on the banks of the Napa River and features a tennis court. 
Neighboring vineyards have told in the past how the couple throws lavish parties for Silicon Valley executives.