Democrat House Speaker Nancy Pelosi's husband Paul Pelosi killed his own brother when he crashed a sports car 65 years ago, according to reports.
Paul Pelosi has made headlines this week after being arrested for crashing his car while drunk driving over the weekend.
Pelosi was in Napa, California at a friend's dinner party before the incident.
After driving through a stop sign on his way home, Pelosi pulled out into the path of another driver.
A jeep crashed into Pelosi who was driving his 2021 Porsche.
The cops arrested Pelosi after less than an hour at the scene.
He was cited for drunk driving and was bailed out of jail around 7 a.m.
The Daily Mail did some digging and found out this is not the first time Pelosi had had trouble with sports cars.
In 1957, when Paul Pelosi was a 16-year-old high school sophomore, he killed his 19-year-old brother, David Pelosi, in an early morning car wreck in San Francisco.
David was a college freshman at the time of the accident.
A newspaper report at the time said Paul would be cited for misdemeanor manslaughter but there was no court case after the investigation concluded.
From The Daily Mail:
'This is a bad stretch – better slow down,' David is said to have told his younger brother as he approached a tight curve near the Crystal Springs Dam on the Skyline Highway – now California State Route 35. 
Paul, now 82, told Patrolman Thomas Ganley he tried to slow by shifting gears in the stick shift car, but lost control.
'The car veered across the road, bounced back from a small embankment, climbed 20 feet up another, spun around and somersaulted simultaneously and ended upside down on the shoulder with both youths underneath,' reported the Examiner.
The crash occurred at 2:40 am on February 22, 1957. Paul had gone to pick up his brother from a girlfriend's house and the siblings decided to go on a joyride rather than go straight home.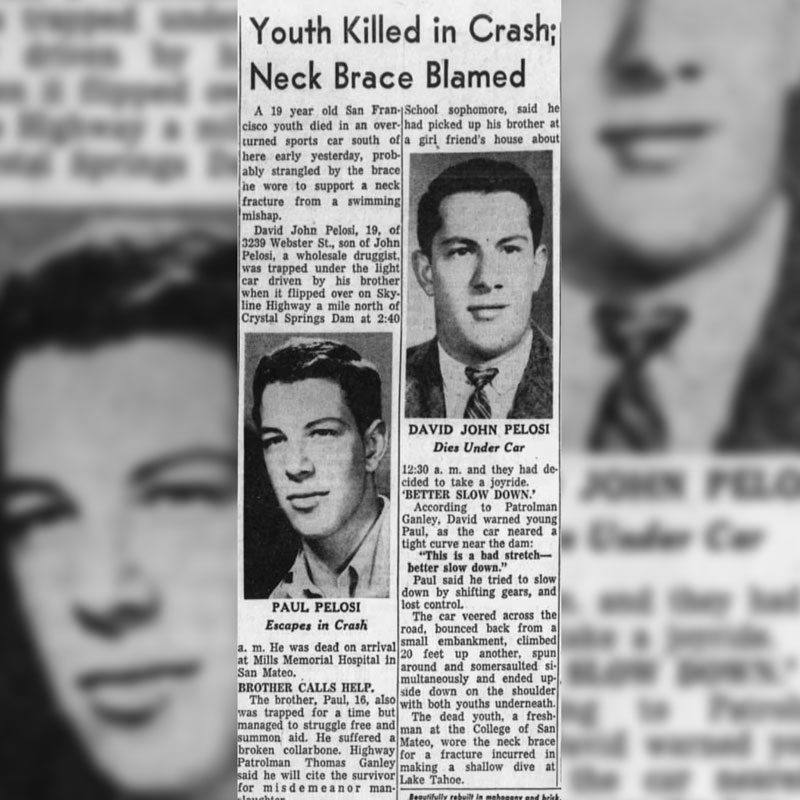 Nancy Pelosi had a cryptic response to Paul's arrest near the family vineyard and appeared to throw her husband under the bus.
"The speaker will not be commenting on this private matter which occurred while she was on the East Coast," said her spokesperson Drew Hammill.
The California Highway Patrol said Pelosi, 82, was attempting to cross Napa County's State Route-29 in a 2021 Porsche late Saturday when he collided with a 48-year-old man driving a 2014 Jeep.
The jeep was traveling northbound and hit Pelosi's Porsche.
The California Highway Patrol report does not say who was at fault in the crash.
But troopers were called to the scene at 10:30 p.m. and arrested Pelosi nearly an hour later.
There were no injuries reported from the crash.
The driver of the Jeep was not arrested.
The weekend arrest of Paul Pelosi, the husband of U.S. Speaker of the House Nancy Pelosi, on suspicion of driving under the influence came after the car he was driving was hit by another vehicle. No injuries were reported. https://t.co/dKelJs6zL2

— MarketWatch (@MarketWatch) May 31, 2022