The police department in Akron, Ohio gets called out on all sorts of crime reports but dispatchers were especially startled recently.
Out of the blue, a call came in about a stolen bridge.
That's certainly a new one.
Now that the word is out, hot bridges could turn into a trendy item on the black-market.
Someone stole WHAT?
Police are asking the public for help finding a missing bridge.
Now that the police have all been defunded and demoralized to a level of civil impotence not seen in America since the lawless frontier days, thieves are walking away with anything they can scrounge.
This may be a new one to the Akron Police but it just might start a new criminal trend.
This isn't a roadway bridge that people drive over every day, which contributed to it's disappearance. It originally spanned the Little Cuyahoga River for pedestrian visitors to Middlebury Run Park.
Folks love to wander by the river there.
They can enjoy the smell of burning rubber as the park "sits in the shadow of Goodyear World Headquarters." Everyone was happy until the wetlands restoration project started.
The 58-foot long bridge is easy to assemble and disassemble, thanks to modern technology.
That's one of the reasons why they bought it. It's also the biggest reason it was stolen.
For the duration of the restoration work, they "moved it to a field along Seiberling Street."
Nobody thought the city would need to pay the expense of a security guard, to watch it round-the-clock, but apparently they were wrong.
Wanna buy a bridge? Cheap?
Selling the Brooklyn bridge used to be a popular con but that didn't involve moving an actual piece of infrastructure.
What makes this one different is the construction.
The city paid $40,000 and it was money well spent.
The thieves won't sell it for scrap because there isn't much metal in it. Instead, they'll sell the whole thing at a huge discount to an unsuspecting buyer.
There actually is a market and it would sell in a snap at half price.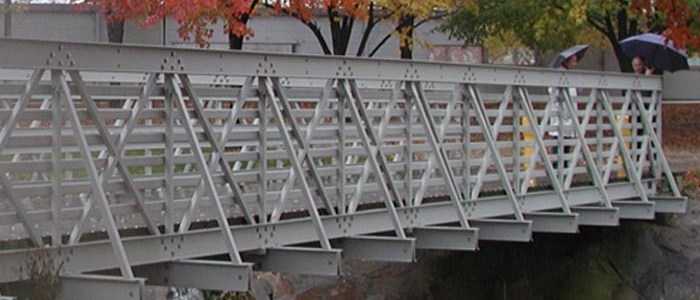 Built by the ReadySpan company, their fiberglass bridge designs offer "all the strength of traditional materials while providing advanced protection against harsh weather, rot, rust, corrosion and more. It's also lighter, making it easier to ship and transport to the jobsite." Or to steal.
The police have been on the lookout since the crime was reported November 11.
Investigators found tracks from where the bridge thieves drove one or more trucks to their target.
They don't have a clue what happened to it after that.
Eventually it could end up anywhere.
"It could be used for a variety of different things to include as simple as landscaping or they could use it for some other engineering project, some other large scale project," Lt. Mike Miller explains.
"The bridge is almost all polymer I'm told and really just connected by some bolts, so if you have any equipment, sockets or anything of that nature, it wouldn't have been very difficult at all to start the process of disassembling that."
They suspect someone in the area.
"Someone in the viewing area has access to some information that we need and this is the 'whodunit' where we really need the community's help to point us in the right direction to find the people responsible for removing that bridge."