Prince Andrew's former masseuse has spoken out to accuse the British royal of being a "creep" who constantly harassed her for sex when she massaged him.
Physiotherapist Emma Gruenbaum, 50, claims she was forced to massage the Queen's son in his bedroom claims he made it "absolutely clear" he wanted more.
Gruenbaum said the "huggy" prince would pressure her to stay behind after their sessions at Royal Lodge, Windsor.
She claims that the Duke of York always insisted on being naked apart from a towel and tried to hug her after massage sessions.
She alleges that Andrew asked her if she "takes it up the a***," the massage therapist claims that she swore at the prince and furiously told him: "It's none of your f***ing business."
The damaging report has emerged just after the duke's legal team claimed that his child rape accuser Virginia Roberts Giuffre "may suffer from false memories."
"I don't want to sit by and not speak out about the way he was towards me as he calls Virginia delusional," Gruenbaum told The Sun.
"Absolutely [I felt he wanted more].
"It was very clear.
"I mean it wasn't explicitly asked but he was so huggy.
"He would say 'do you want to stay? Do you want to watch a movie?'
Gruenbaum says she was a sports massage therapist at the Wentworth Club in Surrey in early 2005 when she started treating Andrew's ex-wife Sarah "Fergie "Ferguson.
Fergie allegedly recommended her services and Andrew's staff then got in touch.
Gruenbaum allegedly first met the duke that summer, just months after the first sex claims against disgraced financier Jeffrey Epstein emerged in the US.
The massage therapist, a freelancer who was not knowingly vetted by Buckingham Palace staff, claims she visited Andrew six times that year.
"I had a lot of high-profile clients and often visited their homes," she claimed.
"But Andrew was very different.
"He was a constant sex pest right from the start."
Gruenbaum alleges she first got a call from the duke's personal secretary inviting her to the Royal Lodge.
When she allegedly attempt to adjust the massage table, she claimed she heard Andrew's voice behind her saying: "Hey, nice a***. Do you take it up the a***?"
"I stood up quickly and turned around," the therapist recalled.
"I was up against the massage table and he was up against me, eyeball to eyeball.
"Almost touching, he was really close.
"And I went, 'None of your f***ing business.'
"And he just looked at me in sort of a dead stare and said, 'You can't talk to me like that.'
"I said, 'Well you can't speak to me like that'."
"I always looked away as he got on the table and made sure there was a towel covering his modesty, but he was always naked under the towel," she added.
"We started the massage.
"But all the way through he was talking about anal sex and making anal sex jokes.
"He asked when I had last had sex. It went on and on.
"I kept telling him to shut up but quickly realized he was OK with being talked at like he was a naughty schoolboy kind of thing.
"So I just carried on in that vein telling him to shut up.
"And that was the pattern.
"I saw him six times.
"He'd say he would get someone to pay me because he doesn't deal with cash."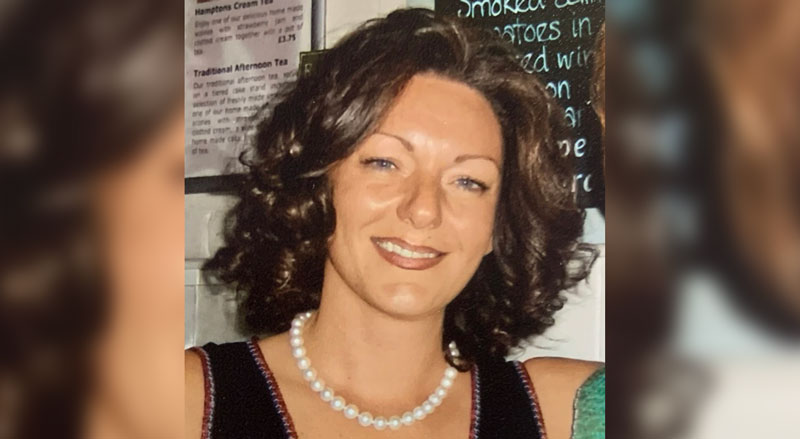 Andrew's office allegedly sent cheques to Miss Gruenbaum's home address including a compliment slip from the prince.
After allegedly visiting the duke almost weekly for around two months, she stopped getting calls from his staff to arrange appointments.
It comes after masseuse Monique Giannelloni alleged that in 2000 a valet showed her Andrew's bedroom at Buckingham Palace before he came out of a bathroom naked.
Miss Roberts claims that she was trafficked by deceased pedophile Epstein and forced to have sex with Andrew when she was a minor under US law.
The duke has vehemently denied all her allegations and has demanded a "trial by jury" in New York later this year.
On Friday,  another female masseuse also came forward with allegations against the prince.
Monique Giannelloni told The Daily Mail that she was booked to give a naked massage to Prince Andrew in Buckingham Palace by convicted sex trafficker Ghislaine Maxwell.
Giannelloni said that the massage for the royal was arranged in June 2000 after she had massaged Maxwell on two occasions at her London home with pedophile Epstein also present.
Ms. Giannelloni, who was a member of the British Register of Complementary Practitioners, was working at a clinic in Kensington and doing home visits at the time of the royal encounter on June 30, 2000, and counted Maxwell among her clients.
After one appointment, Maxwell, who was last month convicted of procuring young girls for pedophile Epstein, told her: "I am going to introduce you to someone more famous than God."
She had been to the socialite's Belgravia home on two occasions and given her a massage upstairs as 67-year-old Epstein looked on.
She said initially she had never heard of Maxwell, who asked her when they met: "Don't you know who I am darling?
"You should read the tabloids I am a celebrity."
Later Giannelloni researched her online and saw her pictured with Andrew at a wedding then realized she was the daughter of the disgraced media tycoon Robert Maxwell.
She added: "When she told me about that person more famous than God, I thought she may have meant an actor or something.
"Never in my wildest dreams did I think it would be royalty."