Rapper Snoop Dogg mocked Democrat President Joe Biden this weekend by promoting a cannabis brand called "Sleepy Joe OG," which makes fun of Biden's confusion.
The brand draws on Biden's famous gaffes and suggests that the cannabis will induce a similar state of bewilderment.
On its packaging, "Sleepy Joe OG" has a picture of Biden looking confused and includes the tagline: "You won't even remember the country you're in."
Snoop Dogg shared a photo of the packaging with his millions of followers on Instagram.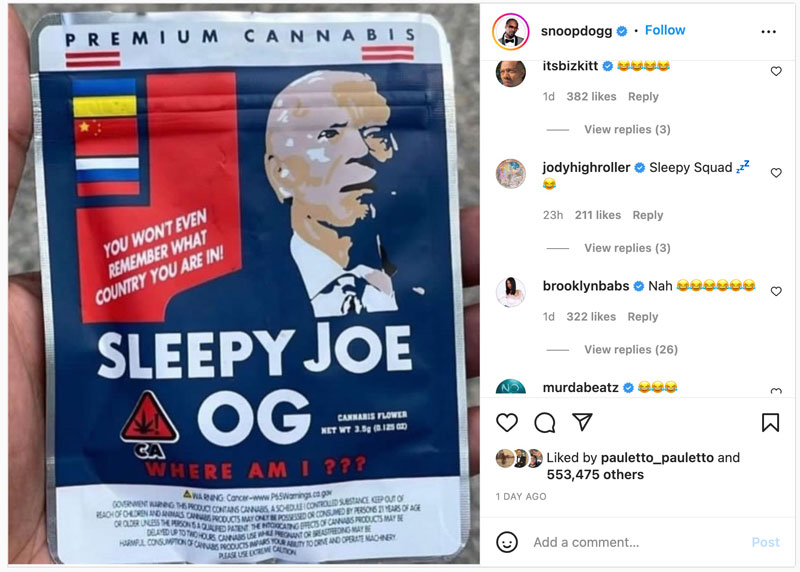 In 2016, the rap star publicly stumped for failed Democrat candidate Hillary Clinton and trashed Trump and his supporters.
However, he also praised Trump toward the end of his first term.
"I just want to say this real quick, now no political sh*t," said Snoop at one point during Trump's presidency.
"All you people for the federal government that not getting paid right now, ain't no f*cking way in the world y'all can vote for Donald Trump when he come back up again.
"If y'all do vote for him, y'all some stupid motherf*ckers.
"F*ck everybody down with Donald Trump, I said it yeah.," Snoop said
But the rapper also lavished praise on Trump.
From The New York Post:
Rapper Snoop Dogg has a message for President Trump and his aides: "I love what they did," he said, in granting clemency to Death Row Records co-founder Michael "Harry O" Harris.
Harris learned Tuesday that he will be released early from prison on Trump's orders, though the White House has not yet publicly said so.
The music and marijuana mogul was told of the decision Sunday and said he wanted to share a message with the outgoing president.
"That's great work for the president and his team on the way out," Snoop Dogg said in remarks shared with The Post.
"They did some great work while they was in there and they did some great work on their way out. Let them know that I love what they did."
He also said, "It is amazing what the work of God can actually bring to life to make people understand that there is a God."
Snoop Dogg praised Trump on a Zoom call with reform advocates Alice Johnson and Weldon Angelos, who shared the recording with his permission.