A biological male transgender is fighting for his right to be euthanized after undergoing a botched sex-change surgery which he deeply regrets.
35-year-old Lois Cardinal, an indigenous Canadian, is currently locked in a bitter battle with Canada's healthcare system after it denied his request for euthanasia, Daily Mail is reporting.
As Slay News previously reported, Cardinal announced in January that he had applied to be euthanized after the irreversible surgery backfired.
Canada has some of the most permissive euthanasia laws in the world.
The "medical assistance in dying" (MAiD) laws allow people to apply for "assisted suicide" for a number of reasons, including being poor, homeless, depressed, or suffering from minor health issues.
After his "male-to-female" surgery backfired, Cardinal submitted his application to begin the process of applying for euthanasia through his country's MAiD program.
He applied for the procedure after years of mental and physical anguish following so-called gender transition surgery.
Cardinal cites ongoing and severe pain from a complication related to a vaginoplasty procedure he underwent in 2009 as his reason for seeking a medically assisted death.
"In 2009, I was rushed into having SRS [sex reassignment surgery] before I was ready," Cardinal said.
"Resulting in immediate regret and sterilization."
Despite the relaxed nature of the laws in Canada, Cardinal was denied his request for euthanasia.
Cardinal lives on a native reserve near St. Paul, Alberta, and shared his medical records on social media this week.
He said he wants to bring attention to the shortcomings of Canada's healthcare policies around both euthanasia and gender affirmation surgeries.
"I'm in constant discomfort and pain, and it's taking this psychological burden on me," Cardinal told the Daily Mail.
"If I'm not able to access proper medical care, I don't want to continue to do this."
Vaginoplasty, a surgical procedure that involves inverting the penis to create a neo-vagina, often leaves recipients suffering from post-operative pain and discomfort.
Common complications include pain during intercourse and bladder problems, according to a recent study from the University of Florida.
According to Boston Children's Hospital, "vaginoplasty requires a lifetime commitment to aftercare.
"If you have a vaginoplasty, you will initially have to dilate your vagina multiple times a day to keep it open.
"Eventually, that can be reduced to several times a week, depending on a variety of factors.
"Your care team will explain in detail how to do this."
However, what is often omitted by "gender-affirming care" advocates is the fact that it is scientifically impossible for a person to change their gender.
A person's gender is determined at the chromosomal level in every cell of the human body and no amount of surgery, drugs, makeup, or pronoun demands can ever change this.
Cardinal formally applied for MAiD under Canada's law earlier this year, but his application was rejected.
The note from Cardinal's doctor noted that he was suffering from "pain/anxiety related to neo-vagina for gender affirmation."
But Canada's MAiD rejected his request.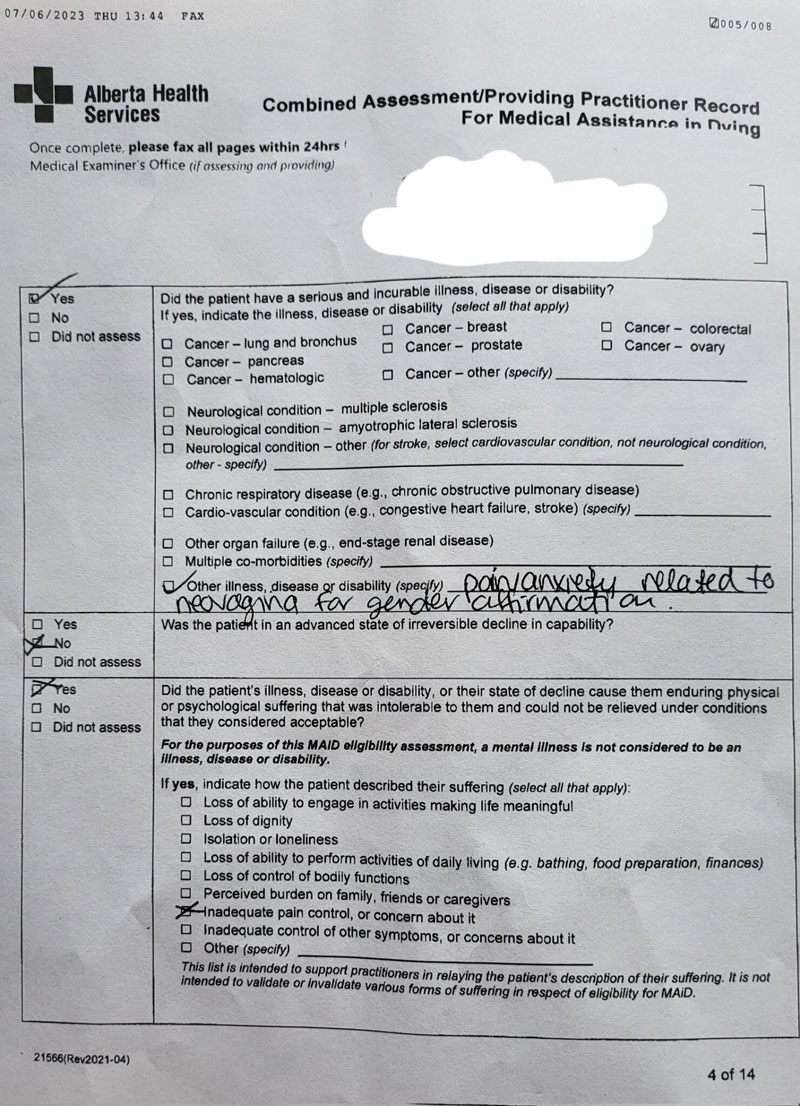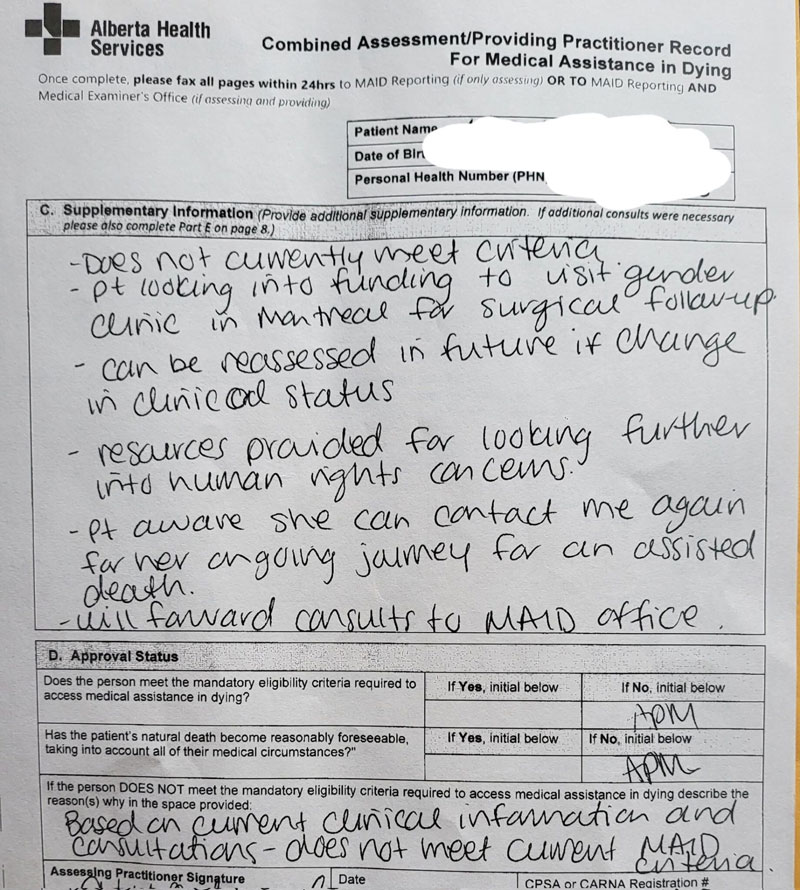 After his request was rejected, Cardinal was prescribed a "numbing cream" for his neo-vagina.
However, Cardinal says this was ineffective and he still wants to be euthanized.
Cardinal criticized his rejection as a "human rights concern."
He told Daily Mail that doctors are more interested in finding out what pronouns he uses than easing his pain.
"I'm not getting any better and nor am I experiencing better medical care, or any medical care," Cardinal said.
"It's so captured by gender ideologies, that they care more about my pronouns," he added.
Cardinal is not just concerned about his own situation and is speaking out to warn others about making the same mistake he did.
He is openly critical of the gender-affirmation ideology that led him to undergo his irresistible, life-destroying surgery.
Cardinal has posted videos expressing his disagreement with the current rhetoric of the transgender community.
He believes that the "woke" mob's efforts to shut down "honest and tough conversations" is fueling "transphobic" sentiments.
In a tweet, Cardinal urged the government offices at all levels to reevaluate their stance on "gender-affirming care."
I'm speaking from experience of being a sterilized first nations person.
I call on ALL levels of governments and offices to reconsider their stance on 'gender affirming care'. pic.twitter.com/K9hcaRjW01

— Duchess Lois Of Alberta (@duchess_elle) July 25, 2023
In response to Cardinal's concerns, a representative from the RCYBC clarified their role and scope of influence in an email.
The response reads:
"In your email, you have also asked 'Why isn't the RCYBC approaching these children with a cultural, holistic, and historical approach before affirming a gender identity?'
"It is important to clarify that the mandate of the RCY does not include services or service delivery directly to children and youth.
"The RCY does not have direct influence over decisions in the community regarding 'affirming gender identity.'"
I did contact the @RCYBCyouth @RCYBC and this was the reply. pic.twitter.com/fNg4PKGBfS

— Duchess Lois Of Alberta (@duchess_elle) July 28, 2023
READ MORE: Dutch Doctors Now Euthanizing Patients with Autism