An explosive new video has been released that shows a staggering 386,151 votes being removed from the Republican candidate's totals in last week's Pennsylvania Supreme Court election.
The video, released by Audit the Vote PA, shows over 350k votes for GOP candidate Carolyn Carluccio being scrubbed, without explanation.
Astonishingly, Carluccio ended up losing the election by 200,000 votes after 386k was removed from her total.
So far, no explanation has been offered to explain how so many votes could simply be removed in such a critical election.
WATCH:
In what world would votes ever go down in an election? This video shows 350,000 in-person votes being removed from the Republican Supreme Court Candidate in Pennsylvania

The candidate ended up losing the race by 200k votes but no one has given any explanation as to how votes… pic.twitter.com/Bl9mPvvUui

— George (@BehizyTweets) November 14, 2023
On Tuesday night, The Gateway Pundit spoke with Toni Shuppe, the CEO of Audit the Vote PA.
Shuppe works along with her partners, Karen Taylor and Vico Bertogli.
Bertogli is the expert on data and analytics who discovered this supposed "glitch" on the State Department website.
Shuppe told The Gateway Pundit that Audit the Vote PA is interested in transparency.
"Transparency in the process will equal trust in the outcome," Shuppe noted.
"When you have the in person vote totals on the State Department website, go down by 350,000 votes at 9:46 p.m. and no answers as to how that happened," Shuppe added.
"You don't have transparency in the process and therefore won't have trust in the outcome.
"And that's all we're looking to do is restore public trust in the outcome of our elections."
On election night, Carolyn Carluccio had tallied 763,873 votes at 9:46 PM in the state-wide race.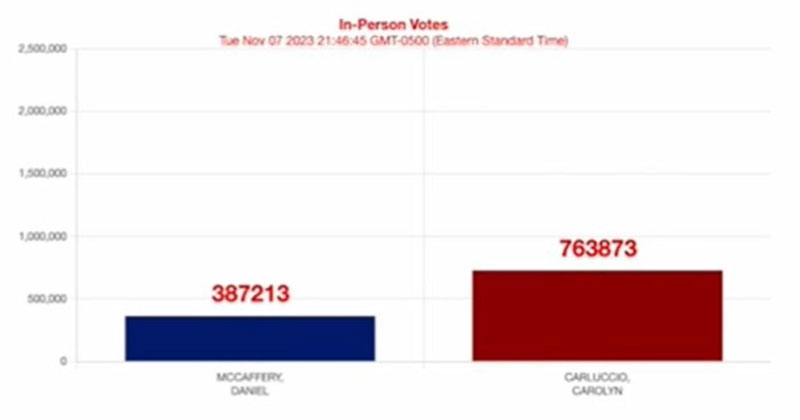 At that point, Carluccio started to lose in-person ballots, according to the Secretary of State website.
Her tally kept falling until she went down to 377,722 votes.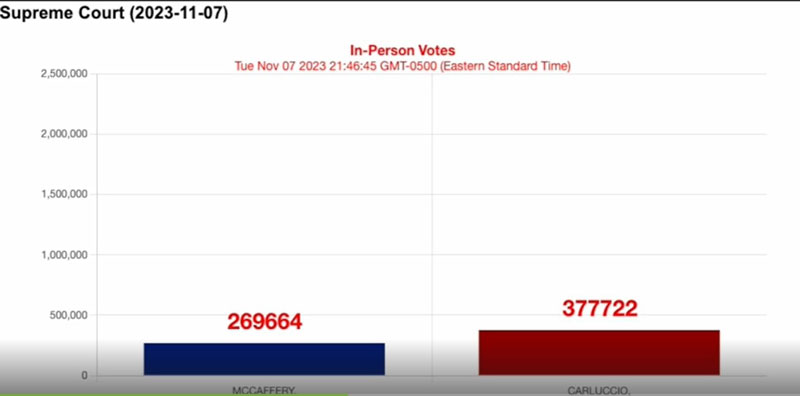 The data was taken from the Secretary of State's webpage.
Shuppe sent the raw data to The Gateway Pundit, who verified the claims.
Carolyn Carluccio lost 386,151 in-person votes at  9:46 PM on election night, the GWP confirmed.
Daniel McCaffery lost 117,549 in-person votes at 9:46 PM on election night.
That's a difference of 268,602 more votes lost by Republican Carluccio than Democrat McCaffery.
McCaffery won the race over Carluccio by 207,237 votes.
So this shift in votes definitely swung the vote to the Democrat candidate.
According to data published by The New York Times, the results were:

The GWP was able to confirm these losses and highlighted the desrpency in the data: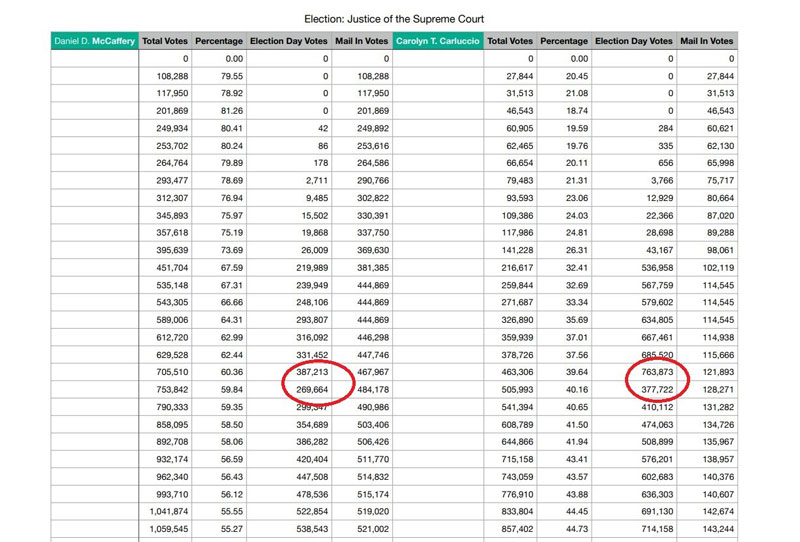 There is currently no explanation for this mysterious drop in vote totals for Republican Carolyn Carluccio.
Here is the video from Audit the Vote PA's Rumble page:
READ MORE: Utah Election Official Hit with Felony Charges for Illegally Shredding, Mishandling Ballots