Democrat President Joe Biden's administration is giving huge taxpayer-funded grants to research that seeks to "correct" the so-called "false beliefs" that American voters supposedly express online.
The Biden admin is pumping tax dollars into a project that works with "fact-checkers" to fight "misinformation" online.
On July 7, 2021, the National Science Foundation (NSF) plowed hundreds of thousands of dollars in taxpayer money into funding a project titled: "How False Beliefs Form and How to Correct Them."
The effort was first exposed in a War Room report.
According to the report, the NSF allocated $444,345 to Lisa Fazio.
Fazio is an Associate Professor of Psychology and Human Development at Vanderbilt University.
Since then, the total amount granted to the researcher has reached $506,478.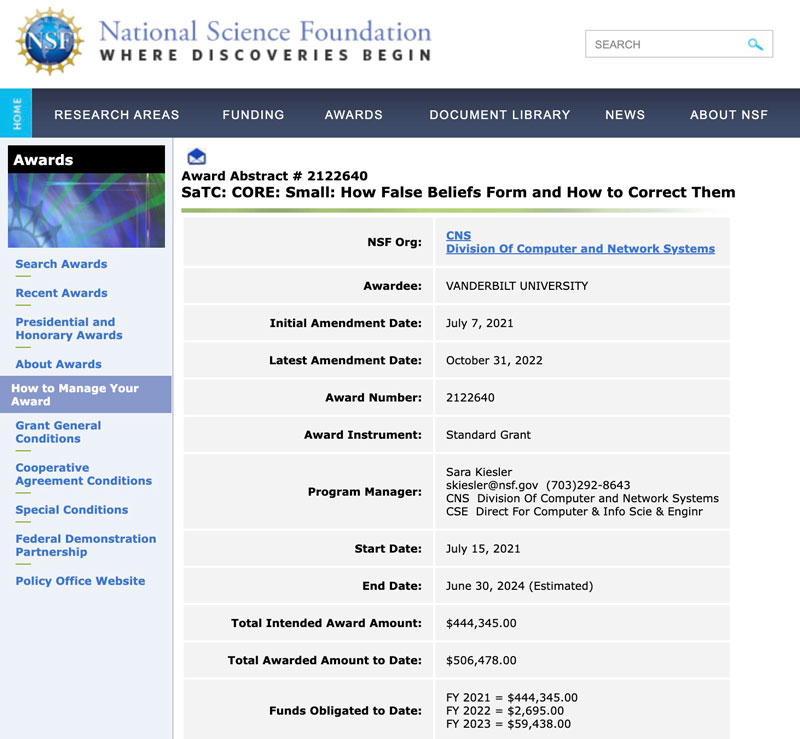 Published on NSF's website is the grant's purpose, which states: "There is currently an urgent need to understand the real-world effects of misinformation on people's beliefs and how to best correct false beliefs.
"Through a series of laboratory and naturalistic experiments, the project team is examining the effects of repetition on belief in real-world settings and how to more effectively counteract misinformation.
"By examining these basic psychological processes in the primary domain within which they affect daily life – misinformation on social media – this work will have implications for real-world practices aimed at reducing the impact of misinformation."
The idea is for the research to "inform real-world practices aimed at reducing the impact of misinformation."
The NSF claims that "fact-checking practitioners are consulted to help guide the research, and results will be discussed with them."
However, it does not name the so-called "fact-checkers."
Yet, the majority of fact-checking outlets operate as propaganda tools for the Democrats and their allies in the corporate media.
These claims of trying to "correct false beliefs" likely translate to efforts to "censor conservative views."
Many of these "fact-checkers" have already built up a notoriety for the often biased way they apply fact-checks.
And more recently, the allegations of bias have been further confirmed after Elon Musk bought Twitter.
Musk's releases of the "Twitter Files" have proved that Big Tech companies and their phony fact-checkers have been actively shutting down those who question the Democrat regime.