Federal officials are warning that anti-Israel terrorists are likely entering the United States by illegally crossing the open Southern Border.
According to an internal October 20 memo obtained by the Daily Caller, members of Hamas, Palestinian Islamic Jihad (PIJ), and Hezbollah are suspected to be crossing the border.
The memo was sent by the San Diego Field Office Intelligence Division of Customs and Border Protection (CBP).
The document warns that due to the war between Israel and Hamas, there could be encounters with terror-tied individuals.
These potential terrorists are seeking to travel to or from the Middle East via transit across the southern border, the memo states.
Hamas, PIJ, and Hezbollah, all of which are U.S.-designated terrorist organizations, have been committing attacks on Israel.
The war began with Hamas's surprise terror attack against hundreds of innocent civilians on October 7.
The memo reads:
"San Diego Field Office Intelligence Unit assesses that individuals inspired by, or reacting to the current Israel-Hamas conflict may attempt travel to or from the area of hostilities in the Middle East via circuitous transit across the Southwest border.
"Foreign fighters motivated by ideology or mercenary soldiers of fortune may attempt to obfuscate travel to or from the US to or from countries in the Middle East through Mexico."
The memo continues by listing the patches of Hamas, PIJ, and Hezbollah.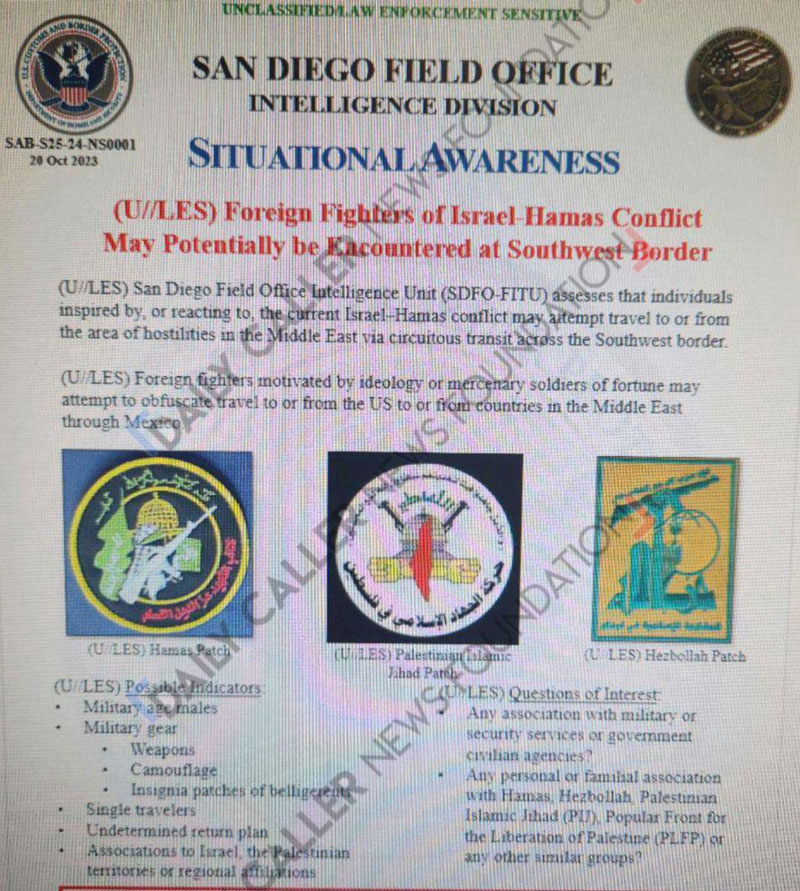 Amid record illegal immigration at the southern border, Border Patrol has recorded a major influx of encounters of individuals whose names appear on the terror watchlist.
Border Patrol encounters with illegal aliens on the terror watchlist at the southern and northern borders hit 172 in fiscal year 2023, up from 98 in fiscal year 2022.
The latest warning of possible terrorist encounters says federal border authorities should look for indicators of potential terror links.
According to the memo, authorities should look for signs including seeing military-age males, military gear, lone travelers, and ties to the region.
The memo also lists several "questions of interest."
These questions relate to individuals' personal or familial associations with "Hamas, Hezbollah, Palestinian Islamic Jihad (PIJ), Popular Front for the Liberation of Palestine (PFLP)" or other similar groups.
READ MORE: Son of Hamas Leader Blows Whistle on Terrorist Group: 'They Don't Care' about Palestinians