Leftists have been imploding on social media after American fast food chain In-N-Out Burger issued a notice to employees that face masks have been banned for all staff members.
The enraged "woke" mob has been demanding boycotts of the company's restaurants in response.
The backlash comes after conservatives engaged in a very successful boycott of Bud Light over the company's blatant political agenda.
But the Left now appears to have found its own boycott target with In-N-Out Burger.
The fast food giant has outraged the Left by telling staff that the pandemic is over and there is no longer a reason to wear masks in the workplace.
It isn't clear why the Left insists that In-N-Out Burger employees should wear masks, however.
Even if we were gripped by a pandemic, there are no reputable studies that show masking prevents the transmission of viruses.
Studies do, however, show that masks do more harm than good.
Leftist Dr. Lucky Tran was incensed enough to start a long Twitter thread about the private company's decision.
In the post, Tran wailed about the burger company.
The mask zealot also urged his "woke" followers to attack the company with tweets and messages on the brand's websites.
Tran, who calls himself a "global scientist," was unhappy when a court in the state of California ruled that employees cannot sue their employers if they get COVID-19 in the workplace.
Tran then noted that "This week, In-N-Out banned their employees from wearing masks."
"This is horrible," he complained.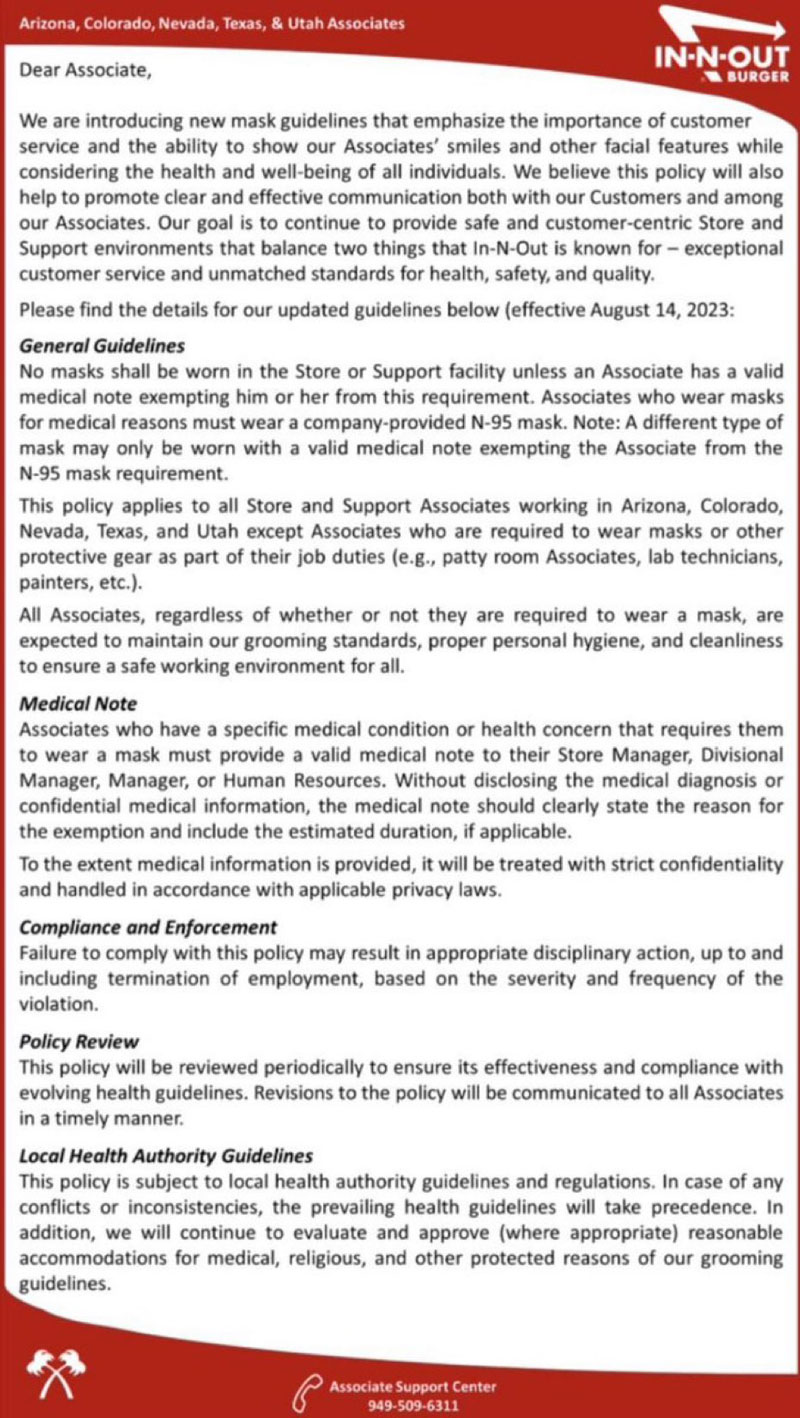 Other leftists quickly joined in on the assault on In-N-Out.
One Twitter user named Babs urged leftists to call the company's hotline and complain.
Another shrill leftist advised the "woke" mob to "BE LOUD" in their attacks on In-N-Out over its masking policy.
"We have to fight back on this," she screeched.
"We need to BE LOUD in our opposition!
"Call and email In-n-out! Let them know this is unacceptable.
"Policymakers and organizations need to speak out," she wrote.
"Businesses cannot ban masks and put staff life and health in danger."
And Twitter user "oh dear" called for a boycott of the fast food joint.
"Banning masks at work?!?" "Oh dear" wrote.
"THIS demands a #Boycott of In-N-Out Burger.
"They are putting their currently-healthy workers at risk.
"Unbelievable, in the light of scientific evidence of long COVID issues."
Unfortunately for "oh dear," the scientific evidence actually suggests that "long Covid" is caused by excessive mask-wearing, not the lack of masking.
Ultimately, the far-left group calling itself "MaskTogetherAmerica" also joined in to urge its brainwashed followers to attack In-N-Out.
"MaskTogetherAmerica" was organized in 2019 to push vaccines and the myth of masks onto the American people.
"In-N-Out Burger is allegedly trying to ban employees from wearing masks unless they have a doctor's note, except @innoutburger in CA," the far-left group tweeted.
"MaskTogetherAmerica condemns mask bullying, mask banning or any forms of discrimination against people who mask up to stay healthy."
READ MORE – CBS: Soaring Heart Attacks Due to Lack of Masking